Overview
M.R.I. Chowdhury & Associates
Law-Immigration Firm and US Immigration Lawyer in Dhaka, Bangladesh.
Specialized Immigration Lawyer, Notary Public, E-Notary, Marriage Registrar, Adoption Lawyer, Business Lawyer, Family Lawyer / Divorce Lawyer.
Practice Areas / Services :
U.S. Immigrant and Non-Immigrant Visas
Marriage Registration- Bangladeshi & Foreigner
Child Adoption/Legal Guardianship and Adoption Visa
Child Custody
Global Visas and Immigration
Bangladesh Visas, Work Permit & Citizenship
Dual Citizenship
Marriage Registration-Bangladeshi & Foreigner
Divorce Matter
Family Matter
Company Formation & Incorporation
Foreign Trade & Investment
Deed / Contract
Power of Attorney & Wills
Property Transaction
Land/Flat Registration & Mutation
Notary Public & E-notary
Documents Legalisation from Ministry of Bangladesh Government
and Foreign Embassies in Bangladesh etc.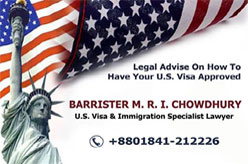 Address :
Barrister M. R. I. Chowdhury, LLM (USA)
Founder & Chief Counselor-at-law
M. R. I. Chowdhury & Associates
Immigration Specialist Lawyer
Advocate, Supreme Court of Bangladesh.
&
District Court, Chittagong, Bangladesh.
Notary Public of Bangladesh & E-Notary
Registrar (The Special Marriage Act, 1872)
Dhaka Law Office :
Haque Tower, JA-28/8-D (8 Floor)
Mohakhali Comercial Area, Dhaka-1212, Bangladesh.
Tel: (88) 01976-212226, 01841-212226
Chittagong Law Office :
51/D, Amirbag R/A, Mehedibag,
Chittagong-4000, Bangladesh.
Phone : (880) (31) 2854389
Tel : (88) 01841-212225, 01976-212225
Fax : (880) (31) 2854389
Sylhet Liaison Office :
East Dargah Gate, Sylhet 3100
Mobile : (88) 01841-212225, 01841-212226
U.S.A. Office :
10685-B Hazelhurst Dr. # 20339
Houston, TX 77043, USA.
Tel / Fax : (281) 754 4941
Email : [email protected]
Phone : +88-01841-212226, 01976-212226
Website : mrichowdhury.com
Visited 4594 times, 5 Visits today