Overview
S Hossain & Associates is a full service law firm located in Gulshan Dhaka. Experienced Advocate of the Supreme Court of Bangladesh, Judges Court, Labour Court, Magistrates Courts etc.
Practice Areas :
Litigation
Criminal Litigation
Public Interest Litigation
Family Law, Divorce and Child Custody
Banking and Finance
Writ (constitutional) Petitions
Employment matters
Immigration
Opening new business in Bangladesh (FDI)
Regulatory Approvals
Power of Attorneys and Notary Public services
Property disputes
Land issues
Succession
Telecommunication & IT Cyber law
Company matters
Admiralty
Bankruptcy
Wills and Waqf
ADR or Alternative Dispute Resolution
Arbitration
Intellectual Property & Trademarks
Immigration for foreigners in Bangladesh
BEPZA & SPECIAL Economic Zone (sale permission, lease permission, BEPZA labour issue)
INCOME TAX & Customs matter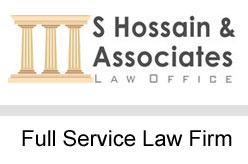 Address :
S Hossain & Associates
House 4/A/1 (3rd Floor),
Road no: 2, Gulshan-1, Dhaka 1212, Bangladesh.
Phone : +88 01770 295 000
Website : shossainandassociates.com
---
Page updated : 1st October, 2017.
Picture :
Visited 1585 times, 1 Visit today