Overview
H & H Company
– Bangladeshi Law Firm, Barristers, Advocates, Notaries, Tax, and Intellectual Property Advisors.
Services :
Practice areas are Family Law, Foreign Investments, Civil Law, Damages, Corporations, Commercial Law, Contracts, Foreign Claims, Estates, Commercial/Business Law, Banking/Financial, Insurance, Marketing Agreements, Patents / Trademarks/ Copyrights, Criminal Law, Collections, Transportation Law, Aeronautical / Maritime, Labor Relations and Foreign Investments.
Other services are Certified Translator, Court Reporter / Stenographer and Notary.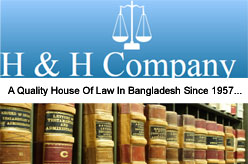 Address :
Shareef Mansion (2nd Floor),
56-57 Motijheel C/A, Dhaka 1000, Bangladesh.
Phone : +88-02-9550705, +88-02-9552447
Fax : +88-02-9552447
High Court Office :
Room No. 1016 (Annex)
Supreme Court Bar Association Building (Ground Floor)
Webpage : www.hnhcompany.com
---
Page updated : 1st October, 2017.
Picture :
Visited 706 times, 1 Visit today