Overview
An-Nur Islamic Marriage Media
– An institute for finding your perfect match mate of Saheeh Aqeeda.
A Muslim matrimonial media / marriage media for Bangladeshi and Non Resident Bangladeshi (NRB) Bride and Groom.
Services :
Matchmaking for muttaqi / practicing muslim Bride or Grooms
Works for divorced, separated, widowed, aged brothers and sisters
Pre and post marriage counseling services
Terms and Conditions to get Membership :
We do work for brothers and sisters of Deen who :
Who are not follower/ mureed of any Peer.
Who does not visit any kind of shrine or place of Bida'ah.
Who does not use any amulet/ Tameemah/ Taweez.
Who are regular in their Salaah.
Who don't support/ take any kind of dowry.
Who earn their livelihood in halal way.
Who follows Shaheeh Sunnah of Prophet Muhammad (May peace be upon him) who wants to marry in accordance to the Islamic Shari'ah.
Who wants to avoid wedding arrangements those are against Islamic culture.
Membership / Fees :
CATEGORY A :
Bride or Groom living in Bangladesh – File opening charge BDT 5000.
CATEGORY B :
Bride or Groom living outside Bangladesh – File opening charge BDT 10,000.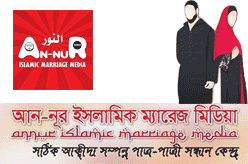 Address :
Khan Mansion, (5th floor), Ga/14/1,
100 yards North of Subastu Najar Vallay,
Shahjadpur Bus Stand, Gulshan-2,
Dhaka-1212, Bangladesh.
Mobile : +88 01727 209497
Email : [email protected]
Web Address : www.annurmatrimony.com | annurmatrimonybd.wordpress.com | facebook.com/annurmatrimonybd
---
Page updated : 09th May, 2017.
Picture :
Visited 6813 times, 1 Visit today