Overview
Veritas Pharmaceuticals Ltd.
– ISO 9001:2008 QMS certified company.
WHO cGMP approved and compliant, state of the art Pharmaceutical Company involved in Product Development, Manufacturing, Quality Control, Marketing, Sales and Distribution of Pharmaceuticals Products in Bangladesh and abroad.
Products :
Antibiotics
Anti-Ulcerant
Gastro Prokinetic Agent
NSAID
Antihistamine
Cardiovascular
Antidiabetic
Amino Acid
Multi-Vitamin & Multi-Mineral
Psychotropic
Neurotonics
[For details products lists, visit website]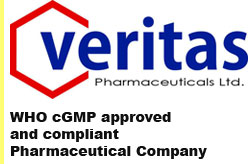 Corporate Office :
H-101, Hajrat Shahjalal Int. Airport Road,
Banani, Dhaka-1213, Bangladesh.
Phone : +88-02-9871908-9
Fax : +88-029871993
Email : [email protected]
Web Address : www.veritaspharmabd.com | facebook.com/veritaspharmabd
Factory :
Vannara, Mouchak, Kaliakoir, Gazipur.
---
Page updated : 14th October, 2017.
Picture :
Visited 10593 times, 4 Visits today