Overview
Bibahabd.com
– One of the leading paid online marriage media in Bangladesh.
If you are a Bride or a Groom; living in Bangladesh or abroad, looking for marry someone, Bibahabd.com is a perfect place for you to choose your life-partner online.
Found in 2008, Bibahabd is a secure place and paid service for online matchmaking service in Bangladesh. So, you have to register first to upload your profile. Read Bibahabd.com Terms & Conditions.
Packages :
Dedicated –
Duration : 180 Days and contact 100 people
Fees : 42900 BDT for Bangladeshis and for NRB USD 550
Diamond –
Duration : 270 Days and contact 40 people
Fee : 10550 BDT for Bangladeshis and for NRB USD 140
Pearl –
Duration : 180 Days and contact 25 people
Fee : 6850 BDT for Bangladeshis and for NRB USD 90
Ruby –
Duration : 90 Days and contact 10 people
Fee : 3850 BDT for Bangladeshis and for NRB USD 50
Onix –
Duration : 45 Days and contact 5 people
Fee : 2500 BDT for Bangladeshis and for NRB USD 35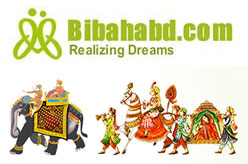 Address :
BIBAHABD.COM
House # 362/1 (3rd floor) D.I.T Road,
East Rampura, Dhaka 1219, Bangladesh.
Phone : (02) 9352508
Hotline : +88 01922 11 5555
Email : [email protected]
Web Address : www.bibahabd.com | facebook.com/bibahabddotcom
---
Page updated : 09th May, 2017.
Picture :
Visited 5880 times, 1 Visit today