Overview
Tourist Guide BD
Inbound and Outbound tour company in Bangladesh. Offering FIT, Group, Meeting, Event Conference and Incentive Travel Management services.
Inbound Destinations :
Dhaka-Cox's Bazaar-Dhaka
Dhaka-St.Martin Island-Dhaka
Dhaka-Cox's Bazaar-St.martin-Dhaka
Dhaka-Rangamati-Dhaka
Dhaka-Bandarban-Dhaka
Dhaka-Rangamati-Chittagong-Cox'sBazaar-Dhaka
Dhaka-Sylhet-Srimongol-Dhaka
Dhaka-Shundarban-Dhaka
Dhaka-Nijhumdwip-Dhaka
Dhaka-Kuakata-Dhaka
Dhaka-Bogra-Mahasthan-Paharpur-Dhaka
Dhaka-Bogra-Rangpur-Dinajpur-Dhaka
Dhaka-Rajshahi-Rangpur-Dinajpur-Dhaka
Dhaka-Sushang Durgapur-Birishiri-Dhaka
Outbound Destinations :
Nepal
Bhutan
Maldives
Sri Lanka
Malaysia
Thailand
Singapore
India
Member : TOAB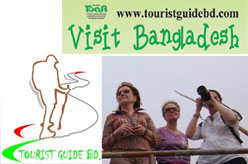 Address :
Avenue-5, Sec-6, A-Blk, Mirpur,
Dhaka – 1216, Bangladesh.
Phone : +88 01190 784923
Email : [email protected]
Website : www.touristguidebd.com | Facebook
---
Page updated : 2
st
October, 2017.
Picture :
Visited 1090 times, 1 Visit today