Overview
Solar Electro Bangladesh Ltd. (SEBL)
– "Let's make the sun meet your electricity need".
Solar Electro Bangladesh Ltd is a leading Solar Power Technology solution & service providing company in Bangladesh.
Mission :
fulfilling basic electricity requirements in the rural areas where grid electricity is absent or unlikely to reach in the near future as well as to supplement Government's vision of electrifying whole of Bangladesh.
Products :
Solar Panel
Complete solar package
DC/ AC Table Fan/Stand Fan
DC Light
Solar IPS
Solar Freeze
Solar Mobile charger
LED bulb (AC/ DC)
CFL (AC/DC)/ Tube Light-T5
Solar Battery
Solar Pump/ Solar Geyser
Solar TV (LCD/ LED Monitor)
Charge Controller
Inverter (Pure/ Modified Sine wave)
Charger Table Fan/ Ceiling Fanv
DC Tube Light
DC LED Bulb
Solar Torch Light
Solar Lantern
Solar Power Accessories
CPVC pipe with fittings
UPVC pipe with fittings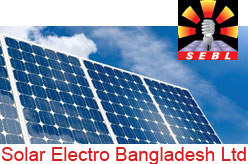 Contact Address :
Solar Electro Bangladesh Ltd.
Corporate Office :
Solar Electro Bangladesh Ltd.
House # 406 (3rd floor) Road # 29, New DOHS,
Mohakhali, Dhaka-1206, Bangladesh.
Telephone:+ 88 02 9861432; Mobile:+88 01740964831
Email : sebl.bd[at]gmail.com
please replace [at] = @
Resisted Office :
Solar Electro Bangladesh Ltd.
Gagan Shirish (11 floor) 76 & 76/1
House # F11, Panthapath, Dhaka-1215, Bangladesh.
Website : www.Solarelectrobd.com
---
Page updated : 8th October, 2017.
Picture :
Visited 5389 times, 2 Visits today