Overview
Revive Medical & Laser Care Services Ltd
– Aesthetic Treatment.
Skincare and plastic surgery clinic in Dhaka, Bangladesh. Located beside Shahabuddin Medical College.
Services :
Revive Obesity & Body Contouring Clinic
Revive Face Contouring Clinic
Breast Clinic
Anti Ageing Clinic
Botox and Fillers Clinic
Cosmetic Surgery Clinic
Non Surgical Aesthetic Clinic
Pediatric Laser Surgery
Scar Clinic
Burn Clinic
Hair Regrowth Clinic
Skin Brightening Clinic
Mommy Makeover Clinic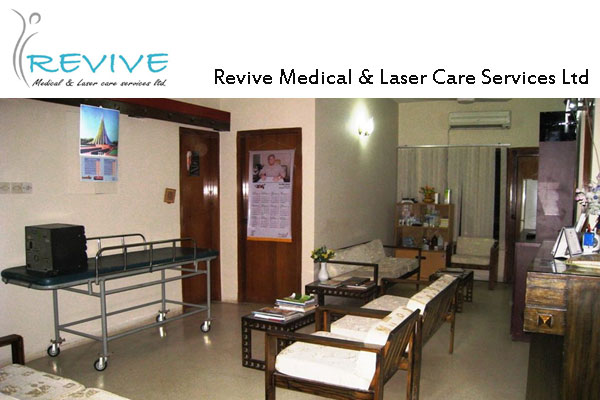 Pic : Revive Medical Laser Care Services Ltd.
Address :
Revive Medical Laser Care Services Ltd.
Spring Garden,
House # 13, Road # 113/A,
Gulshan 2, Dhaka, Bangladesh.
Phone : +88 02 9851751, +88 01928 716902
+88 01976 665588, +88 01973 335588
Working Hours :
Mon-Thu : 9:00 am – 9:00 pm
Sat-Sun : 9:00 am – 9:00 pm
Revive at Uttara Crescent Hospital
Level # 8, Uttara crescent hospital,
House # 40, Rabindra Sarani, Sector-7,
Uttara Model Town, Dhaka – 1230, Bangladesh.
Phone : 01973-335588
Working Hours :
Mon-Tue : 9:00 am – 11:00 am & 7:00 pm – 9:00 pm
Wed : 9:00 am – 11:00 am
Thu : 9:00 am – 11:00 am & 7:00 pm – 9:00 pm
Sat : 7:30 pm – 9:00 pm
Sun : 9:00 am – 11:00 am & 7:00 pm – 9:00 pm
Email : info.revive[at]yahoo.com
Facebook : Gulshan | Uttara
Web : www.revivelasersurgery.com
---
Page updated : 2st October, 2017.
Picture :
Visited 2807 times, 1 Visit today