Overview
Othoba.com
Othoba.com is a popular online e-commerce marketplace based in Dhaka, Bangladesh. Othoba is a concern of PRAN-RFL Group offers online shopping in Bangladesh for quality products at reasonable price. Covers whole Bangladesh and anyone from inside or outside of Bangladesh can purchase products online providing a Bangladeshi shipping address.
Products :
Mens Products
Men's Clothing, Men's Footwear, Gents Watches, Fragrances (Perfume, Deodorant), Men's Accessories (Belts, Wallets, Bags, Backpack, Jewelry), Skin Care, Body Care, Shaving products), Men's Eyewear etc.
Women's Products
Women's Clothing (Saree, Salwar Kameez, Kurti, T-Shirt, Tops, Leggings, Palazzo, Pajamas, Nightwears, Undergarments, Bra, Girls Muffler),
Women's Footwear (Sandals and Flip-Flops, Flat Sandal, Party Shoe, Heel, Party Shoe, Sneakers etc.),
Ladies Watches, Fragrances (Perfume, Deodorant),
Women's Fashion Accessories (Purse & Wallets, Handbags, Backpack, Mirror & Comb, Hair Band & Clips),
Beauty & Care (Perfume, Deodorant, Eye Care, Skin Care, Hair Care, Body Care, Makeup, Hand Care, Personal Care Kits), Women's Eyewear etc.
Baby & Kids
Home & Living
Electronics
Food & Grocery
and Other products including Duranta Bicycle.
Delivery Charge : Inside Dhaka 40 tk and Outside Dhaka: 80 tk.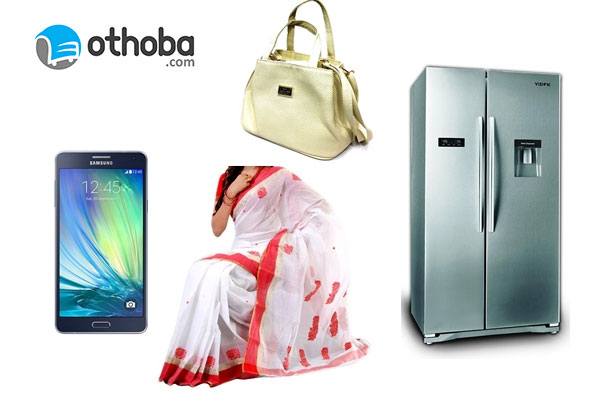 Address :
Othoba.com
Hossain Market (Level-9), Cha-74 Pragati Sarani,
Bir Uttam Rafiqul Islam Ave, Dhaka- 1212, Bangladesh.
Phone : 09613-800800 (Saturday-Thursday, 9 AM- 6 PM)
Email: info[at]othoba.com
Website : www.Othoba.com
** please replace [at] = @
---
Page updated : September 5, 2017.
Picture :
Visited 30634 times, 17 Visits today