Overview
Olympic Cement Ltd.
Founded in 2002, Olympic Cement Ltd (Anchor Brand Cement) is a leading ISO certified cement manufacturing company in Bangladesh. Distributing and exporting best quality cement to the domestic and global market.
Products :
Ordinary Portland Cement (OPC)
Portland Composite Cement (PCC)
Portland Pozzolana Cement (PPC)
– Anchor cement UP (PCC)
– Anchor Portland Pozzalona Cement (PPC)
Brand Name : Anchor.
Plant Capacity : 4000MT (per day)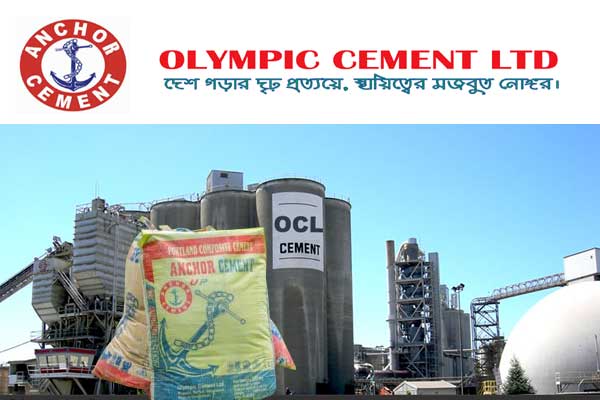 Address :
Olympic Cement Ltd.
Head Office :
Green Grandeur (11th Floor)
58/E, Kamal Ataturk Avenue,
Banani, Dhaka-1213, Bangladesh.
Customer Care : +88 01949-301640, 01711-327705
Phone : +88-02-9821503-4, +88-0431-64312
Fax : +88-02-9821504, +88-02-9821503
E-mail : headoffice[at]olympiccement.com
Corporate Office :
Khansons Bhaban
51 Katpotty Road, Barisal, Bangladesh.
Phone : 88-0431-64312
Fax : 88-0431-64308
E-mail : corporate[at]olympiccement.com
Factory Location :
Rupatoli, Barisal.
(Total three units)
Khansons Group
Khansons Centre, 8th & 9th Floor
37, Kawran Bazar, Dhaka-1215, Bangladesh.
Phone : +88 02 55013501, 55013597(PABX)
Fax : +88 02 55013498
E-mail : info[at]khansonsgroup.com
Web Address : www.khansonsgroup.com
Website : www.olympiccement.com | Facebook
Visited 13784 times, 7 Visits today