Overview
Bangla International Airlines Ltd (BIAL)
BIAL provides Helicopter Service within Bangladesh including Medical Evacuation (Air Ambulance) service. It is a sister concern of PHP and Union Group.
Services :
Business / Corporate / Private Helicopter Charter
Medical Evacuation (Air Ambulance) Service
Leisure Helicopter Charter, Aerial Shooting etc.
Airfleets :
Bell, EuroCopter and Robinson.
Helicopter rental price :
Bell 407 Helicopter – price 1 Lakh / hour
Robinson R-44 Helicopter – price 60,000 / hour.
(Note : Price shown here are for January, 2017.
For current price please contact with this company.)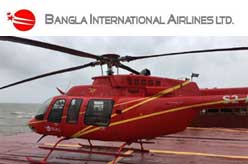 For hiring helicopter please call
01952224466 or 01977707722.
Address :
Bangla International Airlines Ltd.
Union Centre
68/1 Gulshan Avenue, Dhaka – 1212, Bangladesh.
Phone : +880 2 9885771-2, +880 2 9856963-4
Fax : +880 2 9843454
Website : www.uniongroup.com/unionbial | Facebook
Visited 3245 times, 10 Visits today