Overview
Jui Clean and Care
– Professional Cleaning Service
Are you looking for regular cleaning of your sofa and carpet cleaning ? Looking a cleaning company for your bank / office / hospital / shopping complex / embassy / communication company / university campus / industrial complex ?
"Jui Clean and Care" is a Dhaka based Cleaning, Pest Control and Maintenance Service company and waiting for your phone call to provide you its service that you want.
Services :
Sofa and Chair cleaning
Carpet Cleaning
Floor wash and cleaning
Toilet cleaning
Car wash
Pest Control : Flies, Termite, Insect, Mosquito, Rodent, Cockroach control etc.
Vertical and vanishing Blind : wash and clean any kind of Vertical Vanishing Blinds.
Paint and Varnish
Inside and Outside Glass Cleaning : cleaning of the aluminum glass windows, curtain glass, glass walls, sliding glass and from inside along with high access cleaning in glass kits.
Commercial Cleaning : Bank, National and International office, Hospital, University, Shopping and Office complex, Embassy, Telecommunication company etc.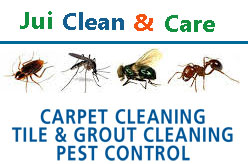 Address :
Jui Clean and Care
Ta-134/2/A, Gulshan Link Road,
(Boishakhi Shoroni), Dhaka – 1212, Bangladesh.
Cell : 01923-851936, 01795-820785, 01683-202126
---
Page updated : 08th May, 2017.
Picture :
Visited 1769 times, 1 Visit today