Overview
Bonanza Restaurant Chittagong
One of Chittagong's best restaurant serves pan-Asian menu, including Chinese, Indian, Thai and Korean. Also offers catering service in Chittagong.
Cuisine :
Thai Cuisine, Chinese Cuisine, Szechuan Cuisine, Indian Cuisine, South Indian Cuisine & Korean Cuisine.
Signature dish :
Grilled Chicken, Steamed Whole Snapper, Whole Roasted Duck
Facilities :
Banquet up to 300 guests.
Conference, Seminar & meeting with P/A system.
Also arranges birthday parties & wedding receptions.
"Set Menu" and Takeway "Lunch box" available.
"Outside Catering" service available.
Opening Hours :
Sat-Fri : 10am-11pm
(Public Holiday Open)
[Lunch 12.30 pm to 3.30 pm
Dinner 6.30 pm to 11.00 pm]
Picture :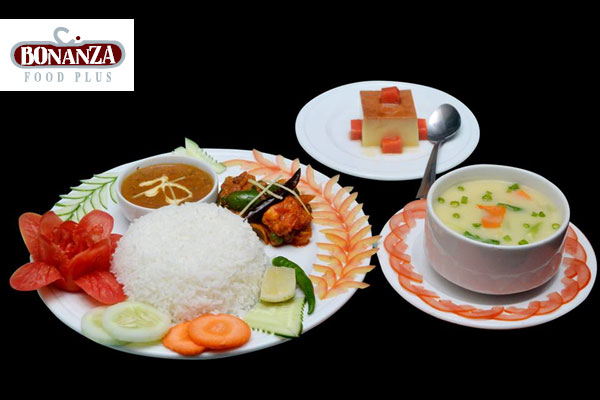 Address :
Bonanza
1692 CDA Avenue (Golden Plaza),
Chittagong 4000, Bangladesh.
Email : [email protected]
Telephone : 88 031 652079, +88 031 652564, 0088 01713255862
Website : www.bonanzafoodplus.com
---
Page updated : 4st October, 2017.
Picture :
Visited 7731 times, 5 Visits today