Overview
Mazada Corporation
– a growing organization specialized in import & market Diesel, HFO & Gas Generators in Bangladesh. One of the leading importer of Construction Equipment, Crane, Forklift & vehicles. Other services includes rental service by Low Bed Trailer, Crane, Construction Equipment's, Barge and Heavy Lifting & Haulage works.
Sister concerns :
Mazada Landmark Limited – Real State, Property Development & Construction business based in Chittagong. Specialized for exclusive Apartment, Shopping Mall, Multi-storied building, Land & Township projects development etc.
Mazada Shipping Line Limited – Reliable shipping company based in Chittagong, Bangladesh. Doing business and serves as Port Agent, Ship Broker, Ship Chartering, Ship sale & purchase (New, Second hand & Demolition).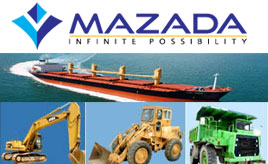 Address : (Corporate Office)
Mazada Corporation
Shahpuri Tower (6th Floor), 335, CDA Avenue,
M M Ali Road, Lalkhan Bazar, Chittagong – 4200, Bangladesh.
Phone : +880-31-2865313 to 5, Fax: +880-31-2865316
Email : [email protected]
website : www.mazadagroup.com
---
Page updated : 08
th
May, 2017.
Picture :
Visited 1109 times, 1 Visit today