Overview
Ashora Group
Ashora Group is operating Engineering/Construction business and consultancy on projects in Bangladesh since 2004. Specialized in water engineering & water management services.
Products
Water

Water Treatment Plant (WTP)
IndustrialSoftener
Iron Removal Plant
Reverse Osmosis Plant (RO)
Demineralization Plant (DM)
Drinking Water Treatment Plant
Turnkey Mineral Water Project
Swimming Pool Water Treatment
Surface Water Treatment Plant (SWTP)
Effluent Treatment Plant (ETP)
Sewerage Treatment Plant (STP)

Construction
Pumps & Motors
Chemicals & Machineries

Water Treatment Chemicals
Cooling Tower
Boiler
Air Blower
Belt Filter Press
Heat Exchanger
Water Flow Meter
Spare Parts and Consumable Items
Sister Concerns :
ASHORA ASSOCIATE.
Ashora Engineering Ltd.
Titas Banijjik Protisthan.
Spring Water Purification Ind.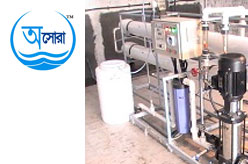 Corporate Office :
Ashora Associate
House # 12 (Ground floor), Road # 08, Sector # 06
Uttara, Dhaka-1230, Bangladesh.
Tel : +88 02 58956753
Mob : +88 01741359906,
Fax : +88 02 58956795
E-mail : enquiry[at]ashorabd.com
Website : www.ashorabd.com
** replace email [at] = @
---
Page updated : 24th May, 2017.
Picture :
Visited 2804 times, 1 Visit today