Overview
Shwapno
Online Grocery Super Shop in Bangladesh. Network of 40+ outlets across Dhaka, Chittagong and Sylhet.
Products :
Fruits & Vegetables
Meat & Fish (Beef, Mutton, Chicken, Birds, Fresh Water Fish, Sea Fish, Egg)
Cooking Items (Loose Rice, Packaged Rice, Soybean Oil, Mustard Oil, Olive Oil, Rice Bran Oil, Sunflower Oil, Spices, Daal & Chola / Lentils & Chickpeas, Salt, Sugar, Dry Vegetables and Flour etc.
Milk & Dairy Products – Baby/Infant Milk, Powdered Milk, UHT Milk, Liquid Milk, Cheese, Yogurt/Curd, Butter & Ghee.
Breads, Biscuits & Cakes
Sauces, Pickles & Condiments
Snacks & Instant Foods
Chocolates & Candies
Drinks – Mineral Water, Juice, Carbonated Drinks, Tea & Coffee etc.
Spreads – Jam & Jelly, Honey, Cheese, Mayonnaise, Chocolate Spreads & Mixed Spreads.
Baby Food & Care – Baby Food, Baby Diapers Wipes, Baby Bath & Toiletries and Baby Accessories.
Personal Care – Shampoo & Hair Care, Toothpaste & Oral Care, Shaving & Facial Care, Soaps and Hand-wash, Deodorants/Body Sprays, Napkins, Contraceptives & Others, Cosmetics and Skin Care.
Home Care & Cleaning – Air Freshner, Cleaning Products and Pest Control.
Pet Care – Pet Food and Pet Accessories.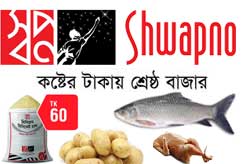 Address :
270, Novo Tower, Tajgaon I/A
Dhaka – 1208, Bangladesh.
Phone : 16469 (customer care)
Website : www.shwapno.com
Visited 129030 times, 45 Visits today