Overview
BDHAAT.com
– Online shopping company in Dhaka, Bangladesh. Buy online and send gift to Bangladesh from USA, UK. BDHAAT Dhaka based oldest and established eCommerce website specializing in discounted offers as well selling almost all types of products online. Popular among expatriate (non-resident) Bangladeshis living in USA and UK.
Products :
Almost all kinds of products including
Fashion :
Men's Fashion : T-Shirt, Polo Shirt, Shirt, Punjabi Pajama, Pant, Cap & Hats, Under Garments, Sunglass, Watch, Wallet, Belt, Sandals & Shoes etc.
Women's Fashion : Salowar Kamiz, Sharee, Kurti Tops & Gown, T-Shirt, Pant, Borka, Under Garments, Sunglass, Watch, Purse, Belt, Sandals & Shoes etc.
Kids : Boys, Girls, Rain Coat
Ornaments : Imitation
Backpack : Backpacks
Electronics Items :
Home Appliances : Television, Blender & Mixer, Electric Kettle, Cooker, Toaster, Oven, Iron, Refrigerator, AC & Heater, Washer & Drier, IPS & Generator, Lights, Fan, Digital Scale, Others
Computer : Laptop, Tablets, Pen Drive, Keyboard, Mouse, Headphone, Web Camera, Processor, Hard Drive, Ram, Accessories (Adapter, Cooling, Cable), Software, Networking, Gaming, Sound System etc.
Gadgets : Feature Phone, Smart Phone, Accessories, Compact Camera, Digital SLR, CC Camera & DVR, Printer & Toner etc.
Home and Decor : Kitchen (Easy Tools, Fry Pan, Water Purifier, Kitchen Decoration), Bed Cover, Nakshi Katha, Air Freshener, Cleaning Materials, Lamp (Wall Lamp, Floor Lamp, Handi Craft Lamp, Hanging Roof Shade Lamp, Bed Side Lamp, Shade Lamp etc.) etc.
Health and Beauty Items : Skin Care /9Cream & Lotion, Face Wash & Soap), Hair Care (Shampoo & Conditioner, Hair Oil & Gel, Tools), Dental Care, Baby Care (Skin, Hair & Teeth, Pampers), Tube Mehedi, Fragrances (Perfume / Body Spray for Man and Women), Makeup and Beauty Equipments (Lips, Nail etc), Shaving & Trimming etc.
Special Offers / Products :
– Ladies Handbags, Wrist Watch, Gifts for loved ones, Birthday Gifts and Cakes, Flowers and Floral Gift items, Kids and Moms items, Gift cards, Original Handbags for women and more.
Shipments / Delivery Information :
Get home delivery anywhere in Bangladesh.
Delivery within 24 hours inside Dhaka. and Delivery within 5 days outside Dhaka.
Payment Options :
International Credit Cards – (Visa, Master Card, Discover, and American Express) without any Extra charges and
Local (Bangladeshi) payment options – VISA, master card and DBBL Nexus without any extra charges. + Bkash Mobile, BDHAAT Internal Credit, BDHAAT Gift Card, BDHAAT Reward Points.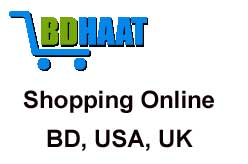 Address :
BDHAAT.com,
57/14, Ground Floor, Panthapath Signal, Dhaka – 1215, Bangladesh.
Phone :
24/7 customer support via Live Chat @ www.bdhaat.com
BD : 09611699026, +88 01764-428336 (24/7 phone support)
USA : 7186849360, +1-888-520-1772
UK : 2035190720 (9:00 am – 8:00 pm BST)
Website : www.bdhaat.com
Visited 2166 times, 3 Visits today