Overview
ShoppersBD is one of the top online shopping eCommerce website in Bangladesh.
Products :
Electronics – Cameras, Gaming, Projector
Computers – Webcam, RAM / Memory, Headphones, Mouses, Pen Drives, Speaker System, Keyboards, Media Pointer, Graphics Tablets
Beauty & Health – Shavers & Trimmers, Hair Straighteners
Men's Zone – Shirts, Panjabi, Polo Shirt, T-Shirt, Sunglass, Shoes, Formal Shoes, Casual Shoes, Sneakers & Converse, Loafers & Moccasins, Sports & Running Shoes, Boots & Adventure Shoes, Sandals & Floaters, Slippers & Flip Flops, Wallet, Belt, Perfume and Deodorant, Body Spray, Winter Hoodies, Eyeglasses, Pants, Jeans, Gabardine, Katua
Women Zone -Ladies Dress, Saree, Shoes, Watches, Make-Up Kits, Ornaments, Party Bag, Umbrella
Baby Zone – Ball House, Baby Walker, Push Car, Baby Strollers, Kids Bag, Water & Feeding Bottle, Tiffin Box, Baby Toys, Baby Bi Cycle, Baby Diaper, Baby Cosmetics, Kids Toys & Games, Baby Items, Baby Punjabi, Kitchen Play Set
Sports – Cricket Gear, Gym & Fitness Items, Club Jersey
Bag – Laptop Bag, School Bag, Travel Bag, Ladies Bag, Camera Bag
Home Appliance
Smart Gadgets
Watch
Order by phone : 09613100200, 01951100200
or Order Online : www.shoppersbd.com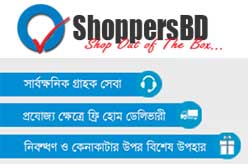 Address :
ShoppersBD.
Hafiza Complex, Ja/80/C
Bir Uttam A K Khandaker Sarak,
Gulshan Link Road, Dhaka – 1212, Bangladesh.
Phone : +88 09613 100200, +88 01951 100200
Website : www.shoppersbd.com
---
Page updated : 1st October, 2017.
Picture :
Visited 2168 times, 1 Visit today