Overview
Hotel Needs Bay Watch – Cox's Bazar, Bangladesh
– Cox's Bazar Hotel, 5 minutes walk from Cox's Bazar sea beach.
Hotel Needs Baywatch Cox's Bazar located in near the beach at Kalatoli road and hotel-motel zone at Cox's Bazar. offers comfortable luxurious Service Apartment.
Facilities of Needs Bay Watch
24-hour front desk, Room service, Luggage storage, Daily maid and Concierge service, Newspapers, Non-smoking rooms, Family rooms, Lift, Air conditioning, Car hire, free car parking etc.
Food & Drink :
Packed lunches, Restaurant, Breakfast in the room.
How to book a Room
For reservation call directly and hotel will respond to you with special room rates and availability. OR You can book online :
Rules :
Check-in time : 12:00 – 13:00 hours
Check-out time : 11:00 – 12:00 hours
Picture :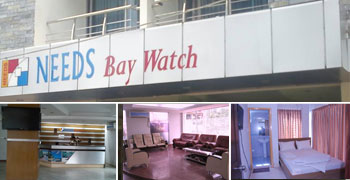 Address :
Plot # 19, Block # C, Kalatali,
Cox's Bazar, Bangladesh.
Mobile : +880 1838-143839
---
List of Accommodations – Hotels / Motels / Serviced Apartments / Guest Houses etc.
---
Page updated : 10th June, 2017.
Picture :
Visited 4641 times, 4 Visits today