Overview
Meena Bazaar
– Retail Supermarket Chain in Bangladesh.
Meena Bazar is one of the largest retail supermarket chain in Bangladesh with online shopping advantages, opened in 2002 and operates in Dhaka, Chittagong & Khulna division. Meena Bazar outlets are carrying almost 8,000-10,000 products for sale & providing convenient shopping experience, easy parking and friendly customer service for its customers. Meena Bazar is a concern of Gemcon Group, producing organic products, dairy items, prepared food & herbal products.
Delivery information :
Free delivery for orders Tk. 1000 and above.
List of retail outlet stores :
Meena Bazar Wari Outlet
19, Larmini Street Wari, Dhaka.
Tel (General) : +88-02-9532158
Meena Bazar Azimpur Outlet
Kaisar Tower
27/B/3-A, Dhakeshari Road
Lalbag, Dhaka.
Tel (General) : +88-02-8620144
Meena Bazar Elephant Road Outlet
23, Kudrat E Khoda Road
Elephant,Dhaka-1205
Tel (General) : +88-02-9613093
Meena Bazar Dhanmondi 15 Outlet
741, Satmosjid Road
Elite Center, Dhaka
Tel (General) : +88-02-8152085
Meena Bazar Dhanmondi 27 Outlet
House 44, Road 27,
Dhanmondi, Dhaka
Tel (General) : +88-02-9139849
Meena Bazar Asad Avenue Outlet
F. K. Tower
77/C, Asad Avenue, Dhaka.
Tel (General) : +88-02-9142578
Meena Bazar Shamoly Outlet
Plot No. 26/27,
Adarsha Chhayaneer Housing Society.
Ring Road Shyamoli,Dhaka.
Tel (General) : +88-02-9103184
Meena Bazar Mohammodi Housing
House -18, Road- 02 main road
Mohammadi Housing Society,
Mohammadpur, Dhaka.
Tel (General) : +88-02-8101107
Meena Bazar Pallabi Outlet
Plot No. 26/D, Main Road No. 3
Section – 11, Pallabi,
Mirpur, Dhaka – 1216.
Tel (General) : +88-02-9009732
Meena Bazar Banani Outlet
House No. 76/A,
Block No. M, Road No. 11
Banani, Dhaka
Tel (General) : +88-02-8835864
Meena Bazar Gulshan 2 Outlet
Hosna Center
106, Gulshan Avenue
Gulshan 2, Dhaka-1212
Tel (General) : +88-02-9855490
Meena Bazar Moghbazar Outlet
208, New Eskaton
Boro Mogbazar, Dhaka
Tel (General) : +88-02-9355453
Meena Bazar Shantinagar Outlet
Ideal Point
157, Shantinagar, Dhaka.
Tel (General) : +88-02-8301027
Meena Bazar Banasree Outlet
House No. 42, Road No. 8,
Block – C, Banasree,
Rampura, Dhaka
Tel (General) : +88-02-8399347
Meena Bazar Uttara-6
Plot 02, Road 13/A, Shahjalal Avenue,
Sector 06, Uttara, Dhaka.
Tel (General) : +88-02-8959844
Meena Bazar Uttara-11 Outlet
Plot No.41, Garibe-Newaz Avenue
Sector 11, Uttara, Dhaka.
Tel (General) : +88-02-8991341
Meena Bazar Uttara-14 Outlet
Gausul Azam Avenue Road,
Uttara-14, Dhaka.
Tel (General) : +88-02-58950164
Meena Bazar Chittagong Outlet
136/A, East Nasirabad
Sholoshahor, Chittagong
Tel (General) : +88031-2552301
Meena Bazar Khulna Outlet
Power House Mor
Khan-E-Sabur Road, Khulna.
Tel (General) : +88041-813306
Call for home delivery service
phone numbers by outlet :
Meena Bazar Asad Avenue Outlet – ‎01841 700791
Meena Bazar Azimpur Outlet – ‎01841 950777
Meena Bazar Banasree Outlet – ‎01841 150777
Meena Bazar Dhanmondi 27 Outlet – 01841 700790
Dhanmondi Elite Center Outlet – ‎01841 700792
Meena Bazaar Zigatola Outlet – ‎01841450777
Meena Bazar Elephant Road Outlet – ‎01841 250777
Meena Bazar Moghbazar Outlet – ‎01841 400777
Meena Bazar Mohammadpur Housing Outlet – ‎01841 700794
Meena Bazar Pallabi Outlet – ‎01841 850777
Meena Bazar Paltan Outlet – ‎01841 350777
Meena Bazar Shantinagar Outlet – ‎01841 600777
Meena Bazar Uttara-6 Outlet – 01841 900777
Meena Bazar Uttara-11 Outlet – 01841 650777
Meena Bazar Uttara-14 Outlet – 01841 595227
Meena Bazar Wari Outlet – ‎01841 800777
Meena Bazar Chittagong Outlet – ‎01841 700793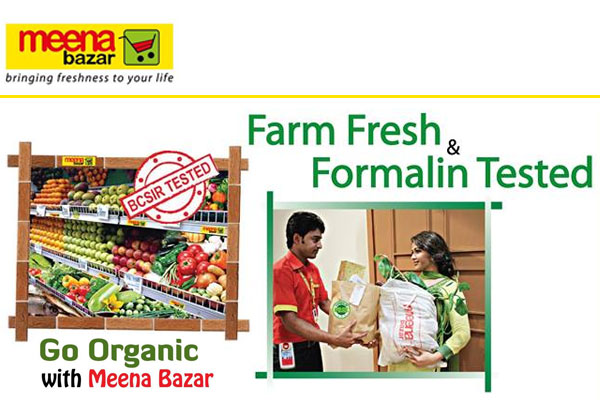 ---
Page updated : 28th May, 2017.
Picture :
Visited 21237 times, 5 Visits today