Overview
Lafarge Surma Cement Ltd. / LafargeHolcim Bangladesh Limited.
Lafarge Surma Cement is located in Chhatak Sunamganj and the only fully integrated dry process cement plant in Bangladesh.
Lafarge Surma Cement Ltd. is a joint venture of LafargeHolcim, a world leader in building materials and Cementos Molins, Spanish multinational company with strong global presence in 90 countries. Lafarge Surma Cement (LSC) is a group company of LafargeHolcim Group and Cementos Molins.
Products :
Brand Name : Supercrete
Type : (Portland Limestone Cement)
Brand Name : Powercrete
Type : (Portland Composite Cement)
Address :
Narayangonj Depot
Lafarge Surma Cement Ltd.
Aati village, Shidhirgonj, Narayangonj.
Sylhet depot (Sales office)
Jaman Complex, 65, Mohana, Pathantula, Sylhet.
Jessore Depot
Panchkabar, Nowapara, Jessore.
Kutubpur terminal, Narayangonj
Motiur rahman sharok, Kutubpur,
(Near to Kutubpur bazaar) Shonargaon, Narayangonj.
Savar / Mirpur Depot
Amin Bazar, Savar, Dhaka.
Gabtoli, Dhaka Depot
Dipnagor, Gabtoli, Dhaka.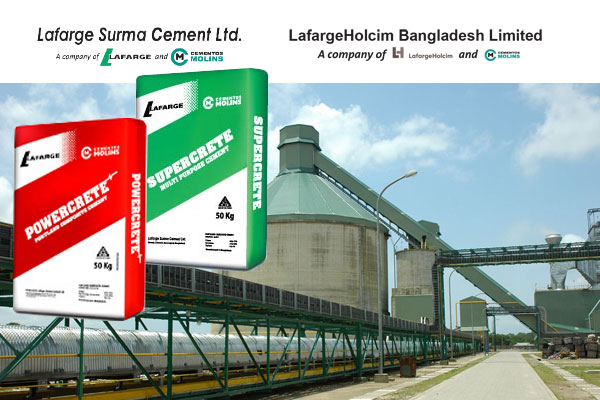 Head Office :
Suvastu Imam Square, 3rd Floor,
65, Gulshan Avaenue, Gulshan-1,
Dhaka-1212, Bangladesh.
Phone : (+88 02) 9854847, 58812026
Fax : + (+88 02) 8815167
Website : www.lafarge-bd.com | Facebook
Visited 18044 times, 33 Visits today