Overview
HeidelbergCement Bangladesh Ltd
German multinational cement company in Bangladesh. Pioneer in Bangladesh for introducing European Norms and producing Portland Composite Cement (PCC) (CEM II) cement since 2003.
HeidelbergCement Bangladesh Limited (HCBL) is a member of German based HeideldelbergCement Group. The group has 140 years of experience in producing cement and is operating over 50 countries.
Products :
– Portland Composite Cement (PCC)
Brand Name :
Ruby Cement and Scan Cement.
Plant Locations :
Operates two cement grinding plants in Dhaka and Chittagong.
Address :
Corporate Office
HeidelbergCement Bangladesh Ltd.
Symphony, Plot No – SE(F) 9, Road No – 142 (6th Floor)
Gulshan Avenue (South), Dhaka – 1212, Bangladesh.
Phone (PABX) : +88-02-58811691
Fax : +88-02-58812584
Share Department
Symphony, Plot No – SE(F) 9, Road No – 142 (7th Floor)
Gulshan Avenue (South), Dhaka – 1212
Tel : +88-02-58815600
Fax : +88-02-58812584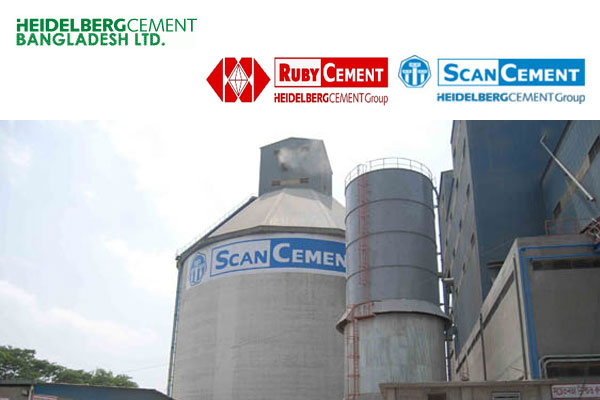 Registered Office and Chittagong Plant
South Halishahar, GPO Box # 372, Chittagong –4204
PABX : +88-031-740902
Fax : +88-031-740904
Kanchpur Plant
Tatki, Jatramora, Tarabow, Rupgonj, Narayanganj.
PABX : +88-02-58815602/3
Fax : +88-02-58815598
Website : heidelbergcementbd.com
Visited 17097 times, 6 Visits today