Overview
Fortis Garments Ltd
Germany based RMG factory for sportswear/casual wear located in Gazipur, Bangladesh. Fortis Garments is a concern of TexFortis Germany GmbH.
Sister Concerns :
Habitus Fashion Ltd.
Address : Gajaria Para, Bhawal Mirzapur, Gazipur Sadar, Gazipur, Bangladesh.
Facebook – www.facebook.com/habitusfashion
LIZ Fashion Ind. Ltd.
Address : Holding-100/2, Block-B, East Chandra, Ward 8, Sofipur, Kaliakoir
Gazipur, Bangladesh.
Website : www.lizfashion.com
KA Design Ltd.
Address : Boro Beraid, Badda, Dhaka – 1212, Bangladesh.
Products :
Functional and technical sportswear such as Base/Mid Layer, T-Shirts/Tops, Functional Polos, Woven Stretch Pants, Woven Shorts, Polar Fleece und Softshells.
Fashion and casual garments (Enzym Washed T-Shirts, Polos, Sweatshirts).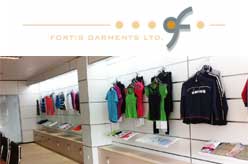 Address :
Fortis Garments Ltd.
100/1, Block-B, Purbo Chandora, Shaheed Mosharaf Hossain Road, Kaliakoir, Block-B, Shaheed Mosharraf Hossain Road, Gazipur 1751,
Gazipur, Bangladesh.
House # 516 (2nd Floor), Road # 10 (West), DOHS Baridhara, Dhaka.
Phone : +88 02 8412158
TexFortis Germany GmbH
An der Bleiche 13, 49434 Neuenkirchen-Vörden, Deutschland.
Phone : +49 (0) 5493 9139946
Website : www.texfortis.com / www.texfortis.de
Visited 12257 times, 1 Visit today