Overview
AKM Knit Wear Ltd.
Sister concern of Al-Muslim Group and one of the leading manufacturer of woven garment products in Bangladesh.
Products :
Kids
Mens – Denim, Jackets, Shirts
Women – Denim
Associate Companies :
AKM Knit Wear Ltd.
Al Muslim Yarn Dyeing
Al Muslim Washing Ltd.
Al Muslim Accessories
Al-Muslim Builders Ltd.
Pacific Blue (Jeans Wear) Ltd.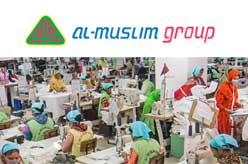 Address :
(Head Office and Factory)
A.K.M Knit Wear Ltd
14, Gedda, Ulail, Savar, Dhaka – 1340, Bangladesh.
Phone : (880-2) 7743598-604, (880-2) 7741576-578
Fax : (880-2) 7742824
Website : al-muslimgroup.com | Facebook
Visited 6761 times, 4 Visits today