Overview
Cosmetic Surgery Centre Ltd.
Cosmetic Surgery Centre Ltd.(CSCL) is a specialized private clinic dedicated to all types of beautification procedures through the full range of cosmetic surgeries including liposuction, tummy tuck, breast implants, rhinoplasty and hair transplant; complimented by lasers, botox, fillers and dermaroller treatments.
Treatments :
Liposuction / Lipoplasty (fat reduction / fat removal)
Cosmetic Rhinoplasty (beautification of nose)
Mammoplasty (beautification of breast)
Polydactyly
Abdominoplasty / Hernioplasty
Laser Treatment
Skin Care/Skin Glow
Acne & Pimples
Face Lift / Rejuvination
Facial Paralysis
Burn Contracture
Cleft Lip / Palate
Mole Removal
Hair Transplant
Bariatric Surgery
Gender Reassignment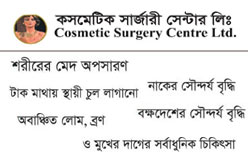 Visiting Hours : 5pm – 7pm.
Address :
72 Satmasjid road,
Nizams Shankar plaza (5th floor), Dhanmondi,
Dhaka – 1209, Bangladesh.
Phone : +88 02 81538088, +88 01711043435
Website : www.cosmeticsurgerybd.com
Visited 9927 times, 4 Visits today