Overview
Aleya Feeds Ltd.
Aleya Feeds Ltd. is a sister concern of Aleya Group. Producing and supplying quality poultry, fish and cattle feeds all over Bangladesh.
Brand Name : Anchor.
Products :
Poultry Feeds including Broiler Starter, Broiler Grower, Broiler Finisher, Broiler House Feed, Layer Feed, Sonali Cock Feed, Quail Feed, Duck Feed.
Floating and Shinking Fish Feed for Telapia, Pangus, Koi, Shirmp, Magur, and Carp.
Cattle Feed.
Factory Address :
Aleya Feeds Ltd.
Baniarchala, Bagherbazar, Gazipur.
Mob : +8801755632006,
IP Phone : 09614500056
Email : aleyafeed.incharge[at]gmail.com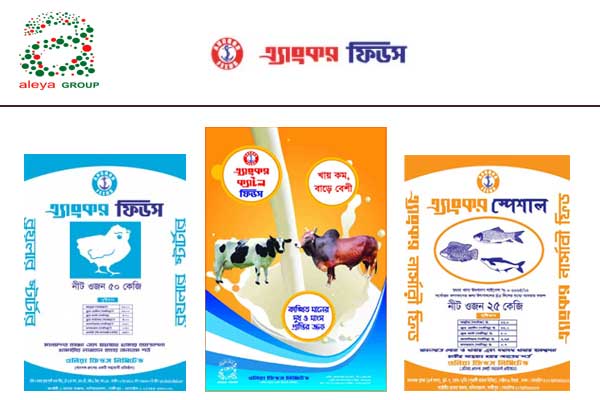 Corporate Address :
Aleya Feeds Ltd.
Momotaz Plaza (3rd Floor),
Plot -7 ( Pubali Bank Building), Road -7/D,
Sector – 9, Uttara, Dhaka – 1230, Bangladesh.
Phone : +88 02 8960882, +88 02 8960883,
09614500051, 09614500055, +88 01755632002
Fax : +88 02 8960883
Email : [email protected]
Website : aleya-bd.com
---
Page updated : 06th May, 2017.
Picture :
Visited 9283 times, 1 Visit today