Overview
X Ceramics Ltd
X Monica – The Italian Brand Tiles. Founded in 2008, X Ceramics Ltd is a ceramic products manufacturing company in Bangladesh, producing glazed ceramic and porcelain tiles for wall and floor coverings for residential, retail and industrial projects.
X Ceramics is a sister concern of Index Companies. Other companies are :
– Monalisa Ceramics (BD) Limited.
– Index Agro Industry limited.
– Index Architects Limited.
– Index Construction Limited.
– Index Poultry (PVT) Limited.
– Index Feeds Limited.
– The Grande Hotels and Resorts
– Index Real Estate
– Alexander Tiles
– Homeideas
– X Breeders Ltd.
– KK Foundation
– X Index Energy Limited.
Products :
Wall Tiles

Living Room Wall Tiles
Bathroom Wall Tiles
Bedroom Wall Tiles
Kitchen Wall Tiles

Floor Tiles

Stair Tiles
Bedroom Floor Tiles
Living Room Floor Tiles
Bathroom Floor Tiles
Kitchen Floor Tiles
Brands Name :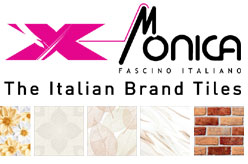 Address :
X Ceramics Limited.
Index Point, Road 12, Plot 34,
Baridhara Diplomatic Zone, Dhaka – 1212, Bangladesh.
Phone : +88 01755-555133 (sales & marketing department)
Website : www.xceramics.com | Facebook
---
Page updated : 3
th
November, 2017.
Picture :
Visited 2195 times, 1 Visit today