Overview
Regus Office Bangladesh – Crystal Palace
Serviced office / commercial co-working space in Gulshan-1, Dhaka, Bangladesh. Located in 3rd floor of Crystal Palace building Gulshan 1, Dhaka.
Advantages :
– Furnished offices with modern furniture and high-speed internet.
– All-inclusive pricing.
– Add more desk space / workspace if needed.
– Flexible workspace from an hour, to a day, to as many years as needed.
– 2 underground car parks
– flexible temporary office / project office and cancel your plan at a month's notice
– Communal kitchen with tea and coffee making facilities.
– Secure, high-speed business-grade internet and WiFi.
– Access to printers, scanners and photocopiers.
– All utility costs included.
– Money-back guarantee – if you are not happy after one week, cancel your contract with no charge.
Products / Services :
Office Space : Fully-furnished, IT-enabled workspace.
Co-Working Space : Desk space in a sociable shared environment – first come first served, or you can reserve your own desk.
Virtual Office Space : Professional address, telephone answering, mail handling and more.
Businessworld : Global access to drop-in workspace with a range of membership levels to suit all budgets and ways of working.
Meeting Room : Professional space to meet, pitch, train and interview, with WiFi, projectors, whiteboards and support.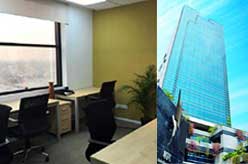 Address :
Crystal Palace,
3rd Floor, House # SE (D) 22, Road #, 140, Gulshan South Avenue, Gulshan-1, Dhaka – 1212, Bangladesh.
Phone : +88 096 1188 6767
Email : – / visit website to use email form.
Website : www.regus.com.bd
Visited 1844 times, 2 Visits today