Overview
Mahfel Huq & Co.
– The first registered accounting firm in independent Bangladesh. Established in 1974 by Mr. Howlader Mahfel Huq, In 2002, the firm was converted into partnership by a merger with Abu Mohammad Kaiser & Co but retained its first name.
Services :
Chartered accountants in Dhaka offering
Audit and Assurance
Tax Consultancy
Corporate Finance
Corporate and Legal Affairs
Risk Consulting
Outsourcing
International Affiliation :
Independent member firm of AGN International, one of the Top 5 international associations of accounting and consulting firms. Headquartered in London, United Kingdom.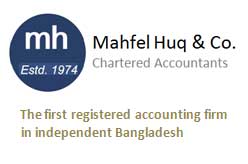 Office Address :
Mahfel Huq & Co
4th Floor, BGIC Tower, 34 Topkhana Road,
Dhaka-1000, Bangladesh.
Phone : +88 02 9553143
Website : www.mahfelhuq.com
---
Page updated : 17th May, 2018.
Picture :
Visited 4207 times, 3 Visits today