List of almost all Group of Companies in Bangladesh :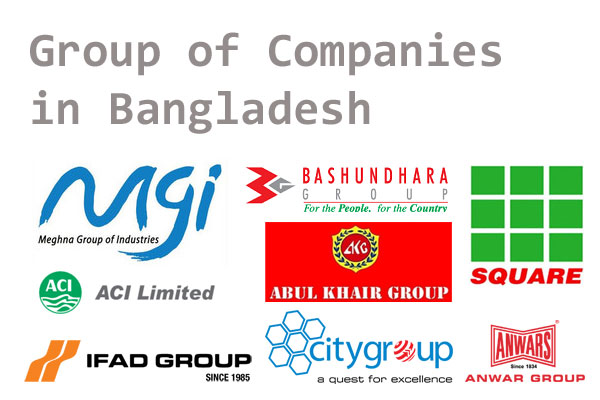 Crony Group

– Abanti Colour Tex Ltd, Crony Tex Sweater Ltd., S.S. Cotton Fabrics Ltd., Crony Apparels Ltd., Crony Tex Sourcing Ltd., Crony Logistic Ltd., Crony Embroidery & Printing, BD Packaging Ltd.

Advanced Chemical Industries Limited (ACI Group)

– ACI Formulations Limited (Dulux Paints), ACI Salt Limited, ACI Logistics Limited, ACI HealthCare Limited, ACI Godrej Agrovet (Pvt.) Limited (Joint venture), Tetley ACI (Bangladesh) Limited (Joint venture), ACI Foods Limited, ACI Pure Flour Limited, Apex Leather Craft Limited, Creative Communication Limited, ACI Motors Limited, Premiaflex Plastics Limited, ACI Edible Oils Limited, Flyban Insecticides Limited, ACI Agrochemical Limited, Stochastic Logic Limited, Asian Consumer Care (Pvt.) Limited.

IFAD Group

– IFAD Multi Products Ltd. (FMCG Brand)
– IFAD Autos Ltd. (Ashok Leyland)
– IFAD Enterprises Ltd. (ELGI Air Compressors)
– IFAD Agro Complex Ltd. (Fish Hatchery etc.)

Meghna Group of Industries

Square Group

PRAN-RFL Group

Navana Group

Abul Khair Group

Ananda Group

Rangs Group

AFTAB GROUP

S. Alam Group

Kallol Group of Companies

Runner Group of Companies

Bengal Group of Industries

Bashundhara Group

Anwar Group of Industries

Akij Group

Aman Group

A. K. Khan Group

aamra

AAYAT Group of Companies

Alif Group

BEXIMCO

Multimode Group

Bio Group

– Biopharma Limited
– Biopharma Foundation
– Bio Properties Ltd
– Biopharma Agrovet Ltd
– Crescent Gastroliver & General Hospital Ltd
– Bio Food and Beverage Industries Ltd
– Euro Bangla Heart Hospital Ltd
– Bio Natures Ltd
– BPL Housing Ltd
– Hotel Coastal Peace (Kolatoli, Cox's Bazar)

ORION GROUP

– Orion Pharma
– Orion Knit Textiles Ltd
– Orion Agro Products Ltd
– Panbo Bangla Mushroom Ltd
– Orion Properties Ltd

R.B. Group of Companies Ltd / Walton Group

– Walton Hi-Tech Industries Limited
– Walton Micro-Tech Corporation (Walton Mobile)
– Walton Motors
– Walton Electronics

Amanat Shah Group (ASG)

– M/s Helal & Brothers
– Hazrat Amanat Shah Spinning Mills Ltd.
– Amanat Shah Weaving Processing Ltd.
– Hazrat Amanat Shah Securites Ltd.
– Miah
– Amanat Shah Fabrics Ltd.
– Trust Knitwear Industries Ltd.
– Farm2Firm Management Ltd.