Overview
HungryNaki
Founded in October 2013, HungryNaki.com is a Bangladeshi online food delivery service in Dhaka, Chittagong and Sylhet metro area.
Delivery Area in Dhaka City :
Adabor, Baitul aman housing society, Banani, Banani DOHS, Baridhara, Baridhara DOHS, Dhanmondi, Green road, Gulshan 1, Gulshan 2, Lalmatia, Mirpur-1, Mirpur-10, Mirpur-11, Mirpur-12, Mirpur-13, Mirpur-14, Mirpur-2, Mirpur-6, Mirpur-7, Mirpur-Pallabi, Mohakhali, Mohakhali DOHS, Mohammadpur, Monsurabad housing society, Niketan, Panthapath, Shyamoli, Uttara and Zigatola.
Delivery Area in Sylhet City :
Alurtal, Ambarkhana, Baghbari R-A, Baluchor, Barud Khana, Bondar Bazar, Dargah mahalla, Daria para, Housing State, Jalalabad cantonment-boteshwar area, Jamtola, Jhornar Par, Kajal Shah, Kazitula, Kuar par, Kumar para, Lal dighir par, Lamabazar, Londoni Para R-A, Madina market, Mahajan patti, Medical College Area, Mejortila-islampur bazar, Mirabazar, Mirboxtula, Mirer maydan, Mirja Jongal, Naya Sarak, North-east medical college campus, Pathantula, Police line, Rikabi bazar, Sagor dighir par, Senpara, Shahi eidgah, Sheikh ghat, Shibgonj, Sobhanighat, Subidbazar R-A, Sust campus area, Sylhet poly technique inst campus, Tilagor, Uposhohor R-A and Zindabazar.
Delivery Area in Chittagong City :
CDA Avenue, Chawk Bazar, Dampara-wasa moor, Foys lake r-a, Gec circle, Gol pahar moor, Jamal khan, Kazir dewri bazar, Khulshi, Lalkhan bazar, Mehdibag r-a, Nasirabad housing society, New station road, O r nizam road, Old station road, Panchlaish, Probortak circle and Tiger pass.
How to Order food online ?
Order through HungryNaki Mobile App, website (HungryNaki.com) or call directly to 09614600900 to get customer care assistance to order food.
Payment options : cash on delivery, bKash & online payment options via VISA and MasterCard.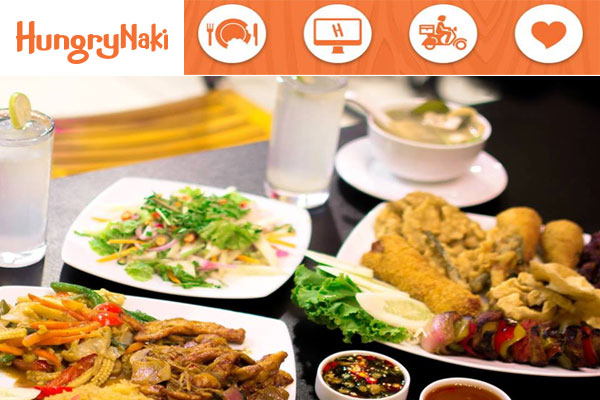 Address :
HungryNaki.com
Dhaka, Bangladesh.
Phone : +88 09678 454545, 09614 600900, 09606 500283-6
Email : support[at]hungrynaki.com
Website : www.hungrynaki.com | Facebook
Visited 11923 times, 2 Visits today