Overview
Hotel Polash International Ltd
Hotel Polash Sylhet is an enterprise of R. L. Polash Inrernational Ltd., which has been managing two more restaurants in U. K. since 1979. Hotel Palash offers a premier setting for conferences, meetings, and corporate events.
Location :
Located in Airport Road, Amborkhana Sylhet and a few minutes walk from the Mazar of Hazrat Shahjalal (Rm), 10 minutes drive from the Osmani International Airport and 15 minutes drive from the city railway station.
Features / Amenities :
24 hours room service
24 hours stand by generator
24 hours lift service
Secretarial services, ticket booking, daily newspapers, Currency exchange, PARKING facilities etc.
Sight seeing tour guide facilities
Rent a car, microbus or any other vehicles are available for picnic, package-tour or other purpouses
Sylhet golf club and station club facilities are available on request as a guest of Hotel Polash Sylhet
Restaurants / Foods :
Wide variety of multi-cuisine food (Traditional,Thai and Indian) at SWAPNIL restaurant.
Meetings & Events :
Banquet Hall accomodate 200 guests for any occasion (Conference, Workshop, Seminar, Symposium, Meeting, Conventions, Lunch, Wedding party, Receiptions, Birthday, Marriage anniversary, Ifter party, State functions etc).
Mini Conference Hall ALAPANI accomodates 50 seats for guests.
Hotel Rooms and price list :
Economic (4 Rooms)
BDT 805 (Single)
BDT 920 (Double)
Deluxe Non A/C (18 Rooms)
BDT 1150 (Single)
BDT 1380 (Double)
BDT 1725 (Tripple)
Deluxe A/C (11 Rooms)
BDT 1725 (Single)
BDT 2012 (Double)
BDT 2127 (Tripple)
Residential Suite (2 Rooms) – BDT 2875
Deluxe Super AC (4 Rooms) – BDT 2300
Suite Super (2 Rooms) – BDT 3450
** Extra Bed in AC BDT 400
** Extra Bed in Non-AC BDT 300
Polash Hotel Sylhet
– Hotel Room price in USD :
Economic Single – USD $10++
Economic Double – USD $11++
Deluxe Non A/C Single – USD $14++
Deluxe Non A/C Double – USD $17++
Deluxe Non A/C Tripple – USD $21++
Deluxe A/C Single – USD $21++
Deluxe A/C Double – USD $25++
Deluxe A/C Tripple – USD $27++
Deluxe Super A/C – USD $28++
Residential Suite – US $35++
Suite Super – US $43++
(All rates exclude 10% service charge and 15% VAT)
Price source : Polash Hotel Sylhet.
Please see Hotel website for current room rate.
How to book a Room
For reservation submit your form here and hotel will respond to you with special room rates and availability.
Picture :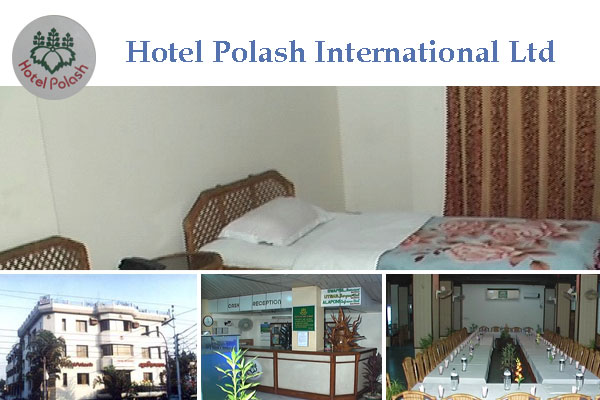 Address :
Hotel Polash International Ltd.
Airport Road, Amborkhana,
Sylhet-3100, Bangladesh.
Phone : +880-821-718309, 715035, 718811
Mobile : +880-1712-249389
Fax : +880-821-718811
Email : [email protected]
Website : www.hotelpolash.com
---
Page last updated : 14th January, 2018.
Picture :
Visited 13387 times, 2 Visits today