Overview
Euro Bangla Group
Established in 1985 Euro Bangla Group is a leading ready made garment manufacturer and buying house in Bangladesh.
Products :
Woven Garments
Knit Garments
Sweaters
Fabric Supply
Business Units :
Fabric & Trim Sourcing Office in China
– Euro Bangla Textiles Ltd.
Sourcing and marketing company of quality Chinese Woven and Knit fabrics in Bangladesh.
Product Development & Sourcing Unit
– Euro Bangla Associates Limited.
one of the leading garments buying house in Bangladesh.
RMG Production Unit
– Capital Poshak Limited. / Euro Bangla Apparels Limited.
100% Export oriented readymade garments (Ladies / Men's and Kids sportswear) manufacturing units of the Group.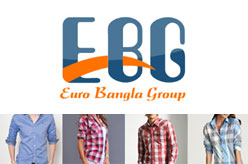 Address :
Euro Bangla Group
House # 18, Road # 34, Sector # 07, Uttara,
Dhaka-1230, Bangladesh.
Phone : +880-2-7912461-62, +880-2-7912556-58
Fax : +880-2-7911717
China Office :
Century Building B-502
Zhang Jia Gang City, Jiang Su Province, China.
Phone : +86-512-58670585, 58698205
Fax : +86-512-58688307
Factory :
"DILAN COMPLEX", 5th & 6th Floor, Dhaka Road,
Chandona Chowrasta, Gazipur – 1702, Bangladesh.
Phone : +8802-9263971, +88 02 9263973, +88 02 9263976
Fax : +8802-9263991
Website : www.eurobanglagroup.com
Visited 8256 times, 9 Visits today