Overview
BRAC Seed and Agro Enterprise
One of the leading importer, seed production and distribution company in Bangladesh. BRAC seed and agro enterprise has a wide network of 450 dealers and more than 4,500 sub-dealers around the country. BRAC Seed and Agro Enterprise is now marketing 26 hybrid varieties and 27 open pollinated varieties of vegetable seed, 13 hybrid varieties and 19 high-yield varieties of rice seed, 14 hybrid varieties of maize seed and 5 varieties potato seed.
Products :
Hybrid and HYV Rice Seed (19 high-yield varieties)
Maize Seed (14 hybrid varieties)
Vegetable Seed (53 varieties)
Potato Seed
Wheat Seed
Pulse Seed
Mustard Seed
Forage Seed
Facilities :
– Agricultural research and development Center : Gazipur, Bogra (Sherpur) and Dinajpur (Birol).
– Production centre : 22
– Seed processing centre : 5 (12,000 metric tons capacity / year)
– Storage system : 11 (4,400 metric tons capacity)
Research and Developments :
– Developed 5 (five) hybrid rice varieties
– Developed 4 (four) hybrid maize varieties
– Developed 10 (ten) hybrid vegetable varieties
– Developed Sweet gourd (variations in sweetness, colour, size, shape).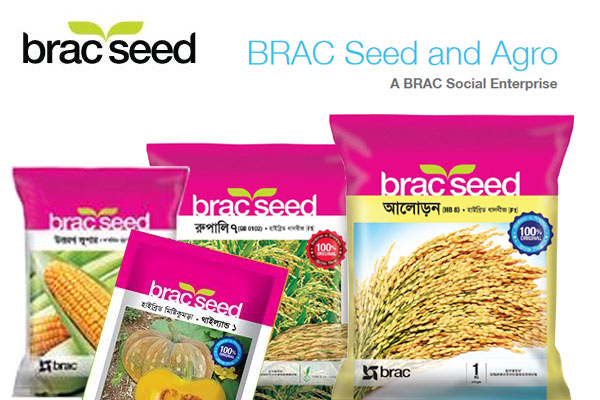 Address :
BRAC Centre, 75 Mohakhali
Dhaka, Bangladesh.
Phone : 01712-863460
Website : www.brac.net | Facebook
Visited 29572 times, 2 Visits today