Overview
Biman Bangladesh Airlines LTD
Biman Bangladesh is the national carrier of Bangladesh. Founded in 4th January 1972 (Commenced operations 4 February 1972) and headquartered in Balaka Bhaban, Kurmitola, Dhaka.
Biman Bangladesh Airlines destinations :
Bangladesh / domestic routes to and from –
Barisal (BZL), Chittagong (CGP), Cox's Bazar (CXB), Dhaka (DAC), Jessore (JSR), Rajshahi (RJH), Saidpur (SPD), Sylhet (ZYL).
International Flights and Routes to and from :
Abu Dhabi (AUH), Bangkok (BKK), Dammam (DMM), Doha (DOH), Dubai (DXB), Istanbul (IST), Jeddah (JED), Kathmandu (KTM), Kolkata (CCU), Kuala Lumpur (KUL), Kuwait City (KWI), Muscat (MCT), Riyadh (RUH), Singapore (SIN), Yangon (RGN), London (LHR).
District Sales Office :
Biman Bhaban
Motijheel, Dhaka
Bangladesh.
Phone : +88-02-9560151.
Sales office at Banani :
Ahmed Tower,
Seventh floor/Eight level (South west corner),
28 & 30 Kamal Ataturk Avenue, Banani,
Dhaka – 1213, Bangladesh.
Phone : +88 02 9822272, +88 02 9822260, +88 02 9822263, +88 02 9822264.
Email : [email protected]
Biman Bangladesh Chittagong Office :
Biman Bhaban,
1/2, CDA Avenue, Sholasohar
Chittagong-4203, Bangladesh.
Telephone : (0088)-031-650671 (6 Line), 650982-84
Fax : (0088)-031-651892
Email : [email protected] [email protected]
Biman Bangladesh Cox's Bazar Office :
Motel Upal,
Parjatan Holiday complex
Cox's Bazar, Bangladesh.
Telephone : +88-0341-63461
Email : [email protected] [email protected]
Biman Bangladesh Sylhet Office :
Airport Road
Majumdari
Sylhet, Bangladesh.
Telephone: +88-0821-717026-28, 717411, 717421
Fax: +88-0821-720491
Email: [email protected] [email protected]
Biman Bangladesh London Office :
747 THIRD AVENUE 2ND FLOOR
NEWYORK, NY-10017
USA.
Mobile:(001) 917-520-8069
Telephone : (001) 212-808-8129, 212-808-4477
Fax : (001) 212-808-4589
Email : [email protected]
Biman Bangladesh London (UK) Office :
17 Conduit Street,
London WIS 2BJ, UK
Mobile : +44 (0)7908 251 439,
Telephone : +44 (0)2076290252, +44 (0)2074957480
+44 (0)2074957478, +44 (0)2076290161
Fax : (0044) 20-76290736
Email : [email protected], [email protected]
Biman Bangladesh Manchester (UK) Office :
Suit 1B Portland Building,
127-129 Portland Street,
Manchester, M14PZ, UK.
Mobile: (0044) 7772326586
Telephone: 0044-161-2282636/6605
Fax: (0044161) 228-7070
Email: [email protected]
Biman Bangladesh Frankfurt (Germany) Office :
GSA :
Avia Reps Heiko Oeser Kaiserstrasse 77
60329 Frankfurt, Main Germany
Email : hos[email protected],[email protected], [email protected]
Telephone : +49 (0) 69 770 673 070
Fax : +49 (0) 69 770 673 235
Reservations : +49 (0) 900 100 1225
Fax : +49 (0) 900 100 1225
Telephone : +49 (0) 69 770 673 260 (Office)
Mobile : +49 0152 032 78724
Email : [email protected],[email protected]
Biman Bangladesh Rome (Italy) Office :
Via Bissolati 54 (2nd Floor)
Int-4 Rome 00187, Italy.
Mobile : (0039) 335475714
Telephone : (0039) 0642884911, 0648771322, 0648771321
Fax : (0039) 0642000211
Email : [email protected]; [email protected]
Biman Bangladesh Bangkok (Thailand) Office :
01F/17A Ocean Insurance Building
163 Surawongse Road, Suriyawongse, Bangkok.
City Office :
Telephone: +66(0)22333896-8, +66(0)22333640, +66(0)22357643-4,
Fax : +66(0)22369973
Airport Office :
Telephone : +66(0)21342940, +66(0)21342943
Fax : +66(0)21342944
Mobiles :
Station Manager : P S Molly +66(0)819243379
Finance Manager : Md Rafiq Uddin Miah +66(0)852233023
Country Manager : A S M Nazrul islam +66(0)898960554
Email : [email protected], [email protected], [email protected]
Biman Bangladesh Singapore Office :
72, Anson Road, # 01-02
Anson House, Singapore- 079911
Mobile : (0065) 96323207, 91119069
Telephone : (0065) 62217155/64384110
Fax : (0065) 64387998
Email : [email protected], [email protected]
Biman Bangladesh Hong Kong Office :
Room-214-215 2/F, Houston Centre,
63 Mody Road, Tsim Sha Tsui East.
Kowloon, Hong Kong.
Mobile : (00852)94702724
Telephone : 852-27248464
Fax : (00852)27246284
Email : [email protected]
Biman Bangladesh Kualalumpur (Malaysia) Office :
13th Floor, Menara Atlan,
161B, Jalan Ampang,
50450, Kualalumpur, Malaysia.
Mobile : +601122736676
Telephone : (00603) 21646270/71
Fax : (00603) 21646142
Email : [email protected], [email protected],
[email protected], [email protected]
Biman Bangladesh Yangon (Myanmar/Burma) Office :
GSA :
Transmarine Logistics Asia PTE LTD
36-38 Grand Myanu Condominium
Room No 304(3RD Floor) Myay Nu Street
Sanchaung Township, Yangon, Myanmar
TEL : +951-505430, +951-532052,+951-523190
Email : [email protected]
Biman Bangladesh kolkata (India) Office :
Siddha Park (6th floor),
99A Park Street,
kolkata 700016, India.
Mobile : (009133) 9831098638
Telephone : (009133) 22266672/73
Fax : (009133) 2226667274
Email : [email protected]
Biman Bangladesh New Delhi (India) Office :
Central Wing, Ground Floor,
Thaper House, 124, Janpath
New Delhi- 110001, India.
Regional Manager : +911141519468
Finance Manager : +911141519222
Sales Counter : +911141519223-25
Email : [email protected]
Biman Bangladesh Kathmandu (Nepal) Office :
House- 243, Nagpokhari,
Naxal, Kathmandu, Nepal.
Mobile : (00977) 9851037510
Telephone : 9771-4434740/4434982
Fax : (00977) 4434869
Email : [email protected]
Biman Bangladesh Karachi (Pakistan) Office :
Local Office :
GSA Gerrys Intl.
Qasr-eZainab, Ground Floor
Club Road, Karachi, Pakistan
Telephone : 0092-35654932-34
Fax : 0092-35654935
Email : [email protected]
Biman Manager : Shaheed Akter Khan
Telephone : 0092-21-35654932-34
Airport Office :
Room No.5037, Q.Jinna Intl Airport
Karachi, Pakistan.
Telephone : 0092-21-34571416
Biman Bangladesh Abu-Dhabi (UAE) Office :
SK. Zayed 2nd ST.
Electra Street, Building No. 5213.
P.O. 4356 Abu-Dhabi, UAE.
Mobile : (00971)-2-6325124 (4 Lines)
Fax : (009712) 6344664
Email : [email protected], [email protected]
Biman Bangladesh Manama (Bahrain) Office :
Shop No 8, Bldg No.18, (Delmon Hotel Bldgs),
Road # 357, Block # 315, Salah Al Aldin Ayubi Ave,
Manama, Bahrain.
Mobile : (00973) 39885463
Telephone : (00973) 17214466, (00973) 17212541
Fax : (00973) 17213426
Email : [email protected]
Biman Bangladesh Muscat (Oman) Office :
Shaik Al Mashany Building,
3rd floor, Opposite of Mosque Qaboos,
Khamis Al-Shaqsi Street,
P.O. Box- 1106, RUWI,
P.C-112, Sutanate of Oman.
Mobile : (00968)-99474929
Telephone : 968-24701128/24702060
Fax : (00968) 24704964
Email : [email protected], [email protected]
Biman Bangladesh Doha (Qatar) Office :
Building No. 35, Ahmed bin Ali,
07 Al Tarabia street,
P.O. 2738, Doha, Qatar.
Mobile : (00974) 5529477
Telephone : 00974-4413054/4413422 EXT 117
Fax : (00974) 4412000
Email : [email protected]
Biman Bangladesh Dubai (UAE) Office :
DNATA,
Ground Floor, Entrance-A (Near Clock Tower),
Al Maktoum Road, Deira,
Dubai, UAE.
Mobile : (00971) 505539045
Telephone : 00971 4 2032 029
Fax : (009714) 2278451
Email : [email protected]
Biman Bangladesh Kuwait Office :
Al-Homaizi Building,
Al Soor Street, P.O.Box-23837,
SAFAT, 13099 Kuwait.
Mobile : (00965) 99813462
Telephone : 00965-22439764/22452977
Fax : (00965) 2439764
Email : [email protected]
Biman Bangladesh Dammam (Saudi Arabia) Office :
Biman Bangladesh Airlines Limited
C/o. ACE Travel,
Prince Faisal Street, Post Box No. 4492
AL-Khober 31952, K.S.A.
Mobile : 00-966-552255895
Telephone : 00-966-3-8827744/8873229
Fax : 00-966-3-8823523
Email : [email protected]
Biman Bangladesh Jeddah (KSA) Office :
Al-Nakheel Centre,
Madinah Road, P.O. Box-13541,
Jeddah, KSA.
Mobile : (00966)505618213
Telephone : 966-2-6652733/6653023
Fax : (009662) 6652850
Email : [email protected], [email protected],
[email protected], [email protected]
Biman Bangladesh Riyadh (Saudi Arabia) Office :
P.O. Box- 21076
Riyadh – 11475, K.S.A.
Mobile : (00966) 504246353
Telephone : (00966) 4623537
Fax : (009661) 4623501
Email : [email protected]; [email protected]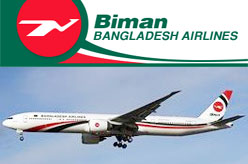 Subsidiaries :
– Biman Flight Catering Centre
– Biman Poultry Complex
– Biman Ground Handling
– Bangladesh Airlines Training Center
For Flights and Airlines Ticket Bookings visit Biman Bangladesh Airlines
Website : www.biman-airlines.com
---
Page updated : 10th June, 2017.
Picture :
Visited 3786 times, 3 Visits today