Overview
Bangladesh Development Company Limited.
BDCL is a sister concern of BDG (Bangladesh Development Group. Involve in ready plot business in and around Dhaka.
Current Offers :
Plot size – 2.5, 3, 5, 7.5, 10 katha of plots of land.
Location :
Ready Plot near Dhaka – Kanchpur, Hemayetpur, keraniganj.
Member : Real Estate & Housing Association of Bangladesh (REHAB).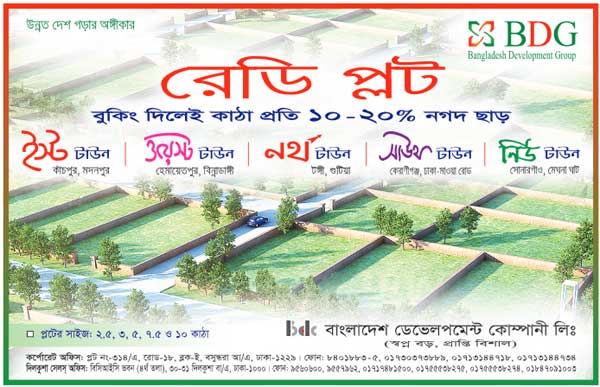 Corporate Office :
Plot # 314/A, Road No # 18, Block # E,
Bashundhara R/A, Dhaka-1229.
Phone : +88-02-8401883-5, 01730373889,
01713-144718, 01713-144734
Motijheel sales office :
BCIC Bhaban (4th Floor),
30-31 Dlikusha C/A, Dhaka 1000.
Phone : 9560600, 9557962, 01717-481500,
01755538275, 01755538274, 01847-091003
Email : [email protected],
Web site : www.bdg.com.bd / www.bdg-magura.com/bdc
---
Page updated : 28th May, 2017.
Picture :
Visited 6423 times, 1 Visit today