Overview
AJ Super Garments Ltd.
Woven Ready-Made-Garment (RMG) factory in Bangladesh. A concern of Nassa Group.
Other companies of Nassa Group :
Nassa Basics Ltd., Nassa Fashions Ltd., Global Nassa Wear Ltd., Nassa Hi Tech Wear Ltd.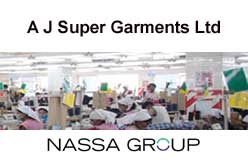 Address :
A.J. Super Garments Ltd.
Aj Garden, Ghoshbag, Zirabo, Ashulia, Savar, Dhaka.
Phone : +88 02 88324006
Website : www.nassagroup.org
---
Page updated : 30
th
October, 2017.
Picture :
Visited 610 times, 1 Visit today