Overview
Abul Khair Steel (AKS Steel)
A sister concern of Abul Khair Group (AKG) of Companies. Abul Khair Steel is the largest multi-diversified steel manufacturing company in Bangladesh. Providing complete solution to its customers in the field of structural steel and today it is the industry leader in the construction steel industry of the country. Abul Khair Steel's re-rolling mill (AKS) is capable of producing 12.75 lac metric tons high quality graded hot-rolled steel (TMT) bars per annum.
Products :
Rebar (reinforcing bars, from 8 mm to 40 mm) category products are :
– AKS G400 (For construction of low and Intermediate steel structures)
– AKS TMT 500W (For medium rise commercial and residential buildings and bridges)
– AKS TMT 550W (For high strength structural steel)
Flat steel products are :
– Goru Marka Dhew Tin
– Cow Brand Colour Coated Steel
– Zinkalum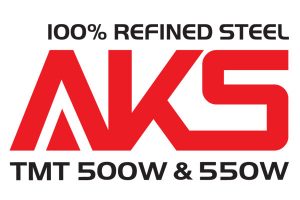 Address :
Abul Khair Steels Ltd (AKS)
Dhaka Trunk Rd, Chittagong 4210, Bangladesh.
Corporate Head Office (Abul Khair Group)
Phone : +88-031-714541-4
Fax : +88-031-720239, 710051
Address : D.T. Road, Pahartali, Chittagong 4217, Bangladesh.
DHAKA OFFICE (Empori Financial Center)
Phone : +880-2-8881221, 8881223
Fax : +880-2-8881057, 8881051-2
Address : Level-13, Plot-6, Road-93, North Avenue, Gulshan-2, Dhaka 1212, Bangladesh.
Website : www.abulkhairgroup.com
Visited 47381 times, 49 Visits today