List of Tour Company in Bangladesh – Inbound and Outbound Package Tour Operators List
Find full list of tour operators in Bangladesh both inbound and outbound :
Almost all the listed tourism companies are member of TOAB (Tour Operators Association of Bangladesh). Bangladeshi Inbound Outbound Package Tour Travel Agency List. Bangladesh travel agency package tour.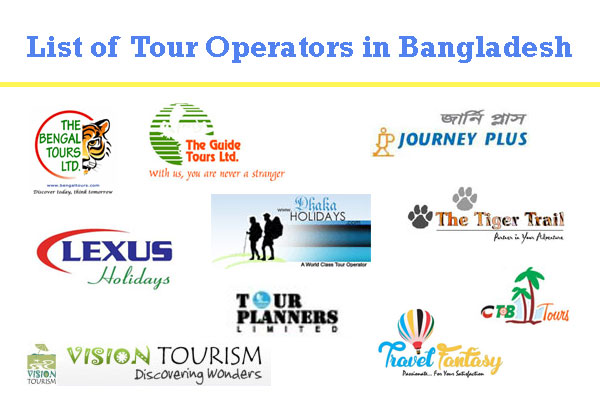 Travel and Tourism company list in Bangladesh :
The Bengal Tours Ltd
[The leading inbound tour operators in Bangladesh. Operates only inbound tours services and travel related services to the incoming foreign & local tourists and local corporate houses all over Bangladesh.]
Address :
House # 45, Road # 27, Block-A, Banani,
Dhaka – 1213, Bangladesh.
Ph. +88 02 8857424
Abakash Parjatan Ltd
[Operates both Domestic and International Tours. International tour places are Kathmandu, Pokhara, Phuntsholing, Kolkata, Darjeeling, Siliguri, Delhi, Agra, Joypur, Mumbai, Goa, Bangkok, Pattaya, Singapore, Kuala Lumpur, Bali]
Address :
Al-Haj Shamsuddin Mansion – 10th Floor, 17,
(Old 280) New Eskaton Road, Moghbazar,
Dhaka – 1000, Bangladesh.
Ph. +8801713145584
No Borders Tourism and Travels
[No Borders Tourism and Travels is a TOAB member and a leading inbound and outbound tour operators in Bangladesh. Inbound tours includes major tourist destinations and outbound tour packages for Sri-Lanka, Maldives, India, Bhutan, Nepal, Malaysia, Singapore, Thailand and Turkey.]
Address :
ka-4/1, Bashundhara R/A, Road,
Dhaka – 1229, Bangladesh.
Ph. +88 01911110164
Reggae Entertainment and Tourism Ltd
[Tour operator and travel agency, member of TOAB. Luxurious Day Long / Overnight river tour operator in Bangladesh. Also operates in the Sundarbans and Khulna area.]
Address :
House # B/157 (Gr. Floor), Road # 22,
Mohakhali DOHS, Dhaka – 1206, Bangladesh.
Ph. +880 2 9856812-3
Lexus Holidays
[Lexus Holidays is a leading tour operator and travel agency in Bangladesh. Lexus Holidays provides package tours, air tickets, hotel booking and star cruise. IATA, TOAB and ATAB recognized tours and travel company.]
Address :
Sonartori Tower (6th Floor), Sonargaon Road,
Banglamotor, Dhaka – 1000. Bangladesh.
Ph. +88 01678000262
Beyond Adventure & Tourism
[Operates Inbound and Outbound Tour Packages, Hotel Booking, Ticketing, MICE services and Transport.]
Address :
House # 1, Road # 7, Block A,
Banasree Rampura, Dhaka – 1219,
Bangladesh.
Ph. +88 01914099700 – 1
Cosmos Holiday
[International Tour Packages for Sri Lanka, Maldives, India, Nepal, Thailand, Malaysia, Bhutan, Singapore, China, Vietnam, Turkey. Cosmos Holiday is also an inbound tour operator in Bangladesh.]
Address :
Mohammadia Super Market, 2nd floor,
4 Sobhanbagh, Dhanmondi,
Dhaka – 1209, Bangladesh.
Ph. +88 01778-889203, +88 01740900667
Tour Planners Ltd
[Tour Planners is one of the leading package tour operators in Bangladesh since 1992. International package tour destinations are Europe including Germany, Czech Republic, Austria, Slovakia, Hungary, Netherlands (Amsterdam), Indonesia (Bali), Thailand, Malaysia, Nepal etc.]
Address :
House # 32 (Ground Floor), Alaol Avenue,
Sector – 6, Uttara, Dhaka – 1230,
Bangladesh.
Ph. +88 01755667781
The Guide Tours Ltd
[Since 1989 The Guide Tours Ltd has been providing tourism related services in Bangladesh to individuals and corporate clients. Inbound tours are Sundarbans, Bandarban, Milonchari Hillside resort, Cox's Bazaar, Kuakata, Sylhet, Chittagong, North Bengal.]
Address :
Rob Super Market (6th floor),
Plot # 22, Gulshan Circle – II,
Dhaka-1212, Bangladesh.
Phone : +88 02 9886983, 9862205
Fax : +88 02 9886984
Mobile : +8801730045062, +88 01711696337
Email : inq@guidetours.info
Website : guidetoursbd.com
Bangladesh Travel Homes Ltd.
[Tour Operators Association of Bangladesh (TOAB) MEMBER. Operates Inbound Tour Packages and Outbound Tour Packages.]
Address :
House-20, Road-12, Sector-01
Uttara Model Town,
Dhaka-1230, Bangladesh.
Phone : +88 02 8950650,
Mobile : +880 1552483800, +880 1552483883
Email : info@bdtravelhomes.net,
bdtravelhomes@gmail.com
Website : www.bdtravelhomes.net
Nijhoom Tours
[A 5* rated (TripAdvisor Traveler Rating) travel and tourism company in Bangladesh. Services includes Guided tour, Car rental, Hotel & Ticket etc. Operates Inbound Tour Packages in Bangladesh.]
Address :
H # 22, R # 13, Nikunja-2, Khilkhet
Dhaka-1229, Bangladesh.
Cell : +880-1758-897959, +88-01799-002244
Email : nijhoom.tours@gmail.com
Website : www.nijhoom.com
CTB Limited.
[CTB tours is a TOAB member and operates both inbound and outbound tours. Inbound tour area includes Cox's Bazar, Saint Martin, Rangamati, Sundarbans and Outbound tours in India, Nepal, Bhutan, Thailand and Malaysia.]
Address :
Central Tourism Bangladesh Ltd.
11 EG, Meherba Plaza,
33, Topkhana Road,
Dhaka, Bangladesh.
Phone : +88 02 7170158
Fax : +88 02 9899535
Mobile : +88 01722-924422, 0176-1774699
Email : info@ctbtours.com.bd
Website : ctbtours.com.bd
Lexus Holidays
[Lexus Holidays is the leading tour operator and travel agency in Bangladesh. Provides inbound and outbound package tours, air tickets, hotel booking and star cruise. Special Outbound Tour Packages from Bangladesh are Thailand Holiday Tour Package, Malaysia Holiday Tour Package, Singapore Holiday Tour Package, Nepal Holiday Tour Package.]
Address :
Lexus Holidays
a sister concern of LEXUS TOURS & TRAVELS
Sonartori Tower(6th & 9th Floor),
Sonargaon Road, Banglamotor,
Dhaka – 1000, Bangladesh.
Phone : +88 02 8625049, 8625051, 9676903, 9671336
Fax : +88 02 9674653
Mobile : +88 01678000266, 01678-000263, 01678-000262
Email : info@lexusholidays.com
Website : lexusholidays.com
Sylhet Tourism
a leading inbound and outbound tour operator in Bangladesh.
Address :
House # 19. Road # 13. Sector # 01. Uttara,
Dhaka 1230, Bangladesh.
Ph. +88 01733338111
Leisure Tours & Travels Ltd.
[Leisure Tours & Travels Ltd. is a Bangladesh based Travel agent and Tour Operator provides one stop service for domestic and international tour packages at competitive price.]
Address :
177 Shahid Syed Nazrul Islam Sarani,
Bijoy Nagar, Dhaka 1000, Bangladesh.
Ph. 01819 214493, 01714555555, 01712111111
Website : www.lttlbd.com

List of Tourism Companies in Bangladesh # 2 :

The Tiger Trail
Address :
The Tiger Trail
House # 7, Road # 19/A, Sector # 4,
Uttara, Dhaka – 1230, Bangladesh.
Phone : +88 02 8931108, 8961651
Fax : +88 02 8961817
Mobile : +88 01744629429, 01926788622
Email : info@thetigertrail.com / convoy92@hotmail.com
Website : thetigertrail.com, www.convoygroup.net
—
Member : Tour Operators Association of Bangladesh (TOAB) Approved.
Tour Activity : Inbound Tour Packages, Outbound Tour Packages
The Dhaka Travel & Tours
[International and domestic tour packages, international air ticketing, domestic air ticketing, hotel reservation, visa assistance, hajj & umrah services]
Address :
The Dhaka Travel & Tours
Suite # D,E,F,G,H
Meherba Plaza (8th floor)
33, Topkhana Road, Purana Paltan
Dhaka-1000, Bangladesh.
Phone : +88 02 9571529, 9571610, 9568979, 7171892
Fax : +88 02 7171463
Mobile : +88 01973-043784, 01945-344322, 01770-203923
Email : thedhakatravel@gmail.com
Website : thedhakatravels.com
—
Member : Tour Operators Association of Bangladesh (TOAB), IATA, ATAB.
Tour Activity : Inbound Tour Packages, Outbound Tour Packages
Journey Plus
[Journey Plus is a complete Destination Management Company (DMC) based in Dhaka, Bangladesh for over 16 years.]
Address :
Journey Plus
Your DMC in Bangladesh
House No. 60, Block No. B, Road No. 3,
Niketon, Gulshan – 1,
Dhaka-1212, Bangladesh.
Phone : +88 02 8822332, 9854631
Fax : +88 02 9854631
Mobile : +88 01720-242942, 01819-227901
Email : info@journeyplus.com / journeyplus@yahoo.com
Website : journeyplus.com
—
Member : Tour Operators Association of Bangladesh (TOAB), Pacific Asia Travel Association (PATA), Japan Association of Travel Agent (JATA), Central Asian Association of Travel Agent (CAATA).
Tour Activity : Inbound Tour Packages, Outbound Tour Packages.
Venus Tourism
[International tour destinations covered by Venus Tourism are India, Nepal, Bhutan, Malaysia, Singapore, Thailand, Sri Lanka, Egypt, Vietnam, Cambodia, Indonesia, Malaysia, Brunei, China. Venus Tourism also provides worldwide hotel accommodations, air ticketing, Indian train ticket reservation etc.]
Address :
Room No # 27, 54 Anar Koli Super Market (4th Floor)
77/1, Siddheswary
Dhaka-1217, Bangladesh.
Phone : +88 02 9355559
Fax : +88 02
Mobile : +88 01759 000 907, +88 01719-699699, +88 01911-005802, +88 01843-636485
Email : venustourismbd@yahoo.com / emonvenus@yahoo.com
Website : venustourismbd.com
—
Member : Tour Operators Association of Bangladesh (TOAB).
Tour Activity : Outbound Tour Packages
Dhaka Holidays
[One of the leading and trusted tour operator in Bangladesh. Services includes cheap flights booking for domestic and international air tickets, Rent a Car service, Airport transfer service, DMC service, travel insurance service etc.]
Address :
House # 57, Road # 5
(Ground floor), Banani Old DOHS
Dhaka-1206, Bangladesh.
Ph. +88 02 8871885, +88 01712 125 379, +88 01779 579 606
E-mail : info@dhakaholidays.com
Website : www.dhakaholidays.com
—
Member : Tour Operators Association of Bangladesh (TOAB).
Tour Activity : Inbound Tour Packages, Outbound Tour Packages.
Green Bangladesh Tours
[Green Bangladesh Tours is an inbound and outbound tour operator company based in Dhaka. Customized / tailor made tour packages available as per clients needs.]
Address :
House # 11, Road # 4, Dhanmondi,
Dhaka-1205, Bangladesh.
Ph. +88 02 9635356, +88-01711110919, +88-01819480540
E-mail : gbt2005@gmail.com
Website : www.greenbangladeshtours.com
—
Member : Tour Operators Association of Bangladesh (TOAB).
Tour Activity : Inbound Tour Packages, Outbound Tour Packages.
Bangla Holidays / A2z Tour
[Established in 2005, services includes hotel booking & ticketing all over the world, transport arrangement, visa support, invitation letter arranging, vessel ticket booking etc.]
Address :
Bangla Holidays,
Huda Apartment : House-59 (4th Floor),
Road-4, Block-C, Banani,
Dhaka-1213, Bangladesh.
Cell : 01676 000011, 01676 000013,
01676 000022, 01676 000033
Phone : 9860133
E-mail: info@banglaholidays.com, banglaholidays1@gmail.com
Web : www.banglaholidays.com
Facebook : www.facebook.com/A2ztours
A2z Tour
[Hotel, ship, tour, bus, car and other tour related online booking services provider.]
Address :
A2z Tour
Huda Apartment : House-59 (4th Floor),
Road-4, Block-C, Banani,
Dhaka-1213, Bangladesh.
Cell : 01676 000013, 01676 000014, 01676 000023
Phone : 9860133
E-mail : a2ztours9@gmail.com, a2ztour4@gmail.com,
a2ztour3@gmail.com,
Web : www.a2ztour.com
Facebook: www.facebook.com/A2ztours
Bangladesh Travel Homes Ltd.
[BD Travel Homes started its journey as a tour operator of Bangladesh since 2000. Operates domestic package tours including City Area Tour, See Beach Tour, Natural Beauty Tour, Heritage Tour, Tribal Bangladesh Tour etc. Other tour are "Private Tour" which includes English speaking guide or Japanese speaking guide. BD Travel Homes operates "Day Long Trips" / "Over Night Outdoor Trips" to all over Bangladesh.]
Address :
House-20, Road-12, Sector-01
Uttara Model Town,
Dhaka-1230, Bangladesh.
Phone : +88 02 8950650,
Mobile : +880 1552483800, +880 1552483883
Email : info@bdtravelhomes.net , Email : bdtravelhomes@gmail.com
Website : www.bdtravelhomes.net
—
Member : Tour Operators Association of Bangladesh (TOAB).
Tour Activity : Inbound Tour Packages, Outbound Tour Packages.
A. Intraco (BD) Ltd.
[A sister concern of Intraco Group of Companies. Having more than 10 years of tourism related experience; services includes package tour, guide tour, stop over tour, transportation service and hotel reservation.]
Address :
House # 25, 1st Floor Road # 4,
Block # F Banani,
Dhaka 1213, Bangladesh.
Tel : +88 02 8832794
Fax : +88 02 8832794
Cell : +88 01711481017 / +88-017-55512284
Email : intracotours@gmail.com / hakimintraco@gmail.com
Website : www.aintracobd.com
—
Member : Tour Operators Association of Bangladesh (TOAB). IATA approved agency.
Tour Activity : Inbound Tour Packages, Outbound Tour Packages.
Silver Wave Tours Ltd.
[Travel related services includes - Regular Package Tours, City Sightseeing, Cultural and Festival Tour, Special Interest Tour, River Cruise, Tailor made Tours, Hotel Reservation, Media Research and Filming, Coordinating Study Tours, Interpreter Service, Event Managements, Domestic & International Air Tickets, Transport Rentals, Outbound Tours etc.]
Office Address :
House # 05 (3rd floor), Road # 17,
Block # E, Banani,
Dhaka-1213, Bangladesh.
Tel : +880 2 8837697
Fax : +880 2 8837697
Cell : +88-01713452137 ~ 9

Branch Office :
82, Outer Bypass Road (1st floor),
Hasan Bagh, Sonadanga,
Khulna-9000, Bangladesh.
Phone : +880 41 731984

Email : info@silverwavetours.com
Website : www.silverwavetours.com

Contic
[Founded in 1997, Contic is a French Bangladesh tourism company conducting river cruise in Bangladesh. Have two boats, the Larger one - "B613" boat is equipped with cabins for 'overnights' and the "Fleche d'Or" is used for 'Day cruises'.]
Address :
Contic
Sheltech Bliss, House 93 (3rd Floor),
Suhrawardi Avenue, Baridhara,
Dhaka -1212, Bangladesh.
Tel : +88 02 8814824, 9860434, 9860436, 8820531, 8824454
Fax : +88 02 8814851
Cell : +88 01972311666
Email : info@contic.net, arif.contic@gmail.com
Website : www.contic.net
Bangladesh Ecotours
[Indigenous adventure tour and trek specialists. Operates tour packages like - Hill tract and Tribal Tours, Beach and Offshore Island tour, Tea and rubber plantations tour, Rainforest and Sundarbans tour, Archological and Haritage Tour etc.]
Address :
Riad Center( 4th Floor)
4508/A Arkan Road, (Opposite RAB – 7 )
Chandgaon, Chittagong 4212, Bangladesh.
Phone : +88 031 2573257
Mobile Phone : +88 01819 318 345 , 01711-264827
Email : info@bangladeshecotours.com
Website : www.bangladeshecotours.com

More tour company in Bangladesh :

Green Channel Tour Operators – www.greenchannelbd.com
Bangladesh Emerald Tours – bangladeshemeraldtours.com
Golpata Eco Tours – www.golpataecotours.com
Dream Holidays – www.dreamholidays.com.bd
Jinghua Bangla Tours & Travels Ltd – www.jinghuabanglatours.com
Everest Tours & Travels – www.everesttoursbd.com
Ariyan Holidays – www.ariyanholidays.com
STAR HOLIDAYS – www.starholidaysbd.com
French Bangla Tours – www.frenchbanglatours.com
SHORORITU TOURS – shororitutoursbd.com
Autarky Tours – www.autarkytours.com
Prime Tourism Network Ltd – www.primetourism.net.bd
Tiger Tours Limited – www.tigertoursbd.com
Travel Fantasy – www.travel-fantasy.com
---
---